In our last article, we gave you a brief history lesson on automatic pill counters and a look at the advanced technology used in new models. Now it's time to explore our new pill-counting feature so we can show you how it fits together.
TelePharm Count is built directly into Telepharmacy and Virtual Verification, enhancing and consolidating the pharmacy workflow. Pharmacists, technicians, customers—everyone wins when the filling process is more efficient, safe, and accurate. Our pill counter checks all those boxes and has the potential to do even more!
How TelePharm Count works
It's 2022, and artificial intelligence is everywhere, including TelePharm Count. Our pill counter uses a computer vision model, which means it's constantly learning, becoming smarter and more accurate to ensure every pill is detected accurately.
TelePharm Count pairs with our all-in-one technician imaging kiosk—it has a small footprint and saves space. Our software runs on an iPad, so it's fast, reliable, and much more affordable than other machines. It is the only SaaS-based model on the market, allowing the product to scale and giving customers additional tools and features instantaneously.
Count is barcode scan enabled. When scanned, the corresponding medication appears on the screen. The user pours the pills onto the counting tray, where the camera captures images, simultaneously identifying and counting. The number on the screen turns green when it hits the correct amount, and the user returns any extra medication to the original bottle and fills the prescription with the counted pills. TelePharm Count automatically capturing high-resolution color images of each prescription processed and creating a full audit log. Easy peasy.

A Pill Counter That Works Smarter, Not Harder
Technology is supposed to make your job easier. But sometimes, it can have the opposite effect, adding extra steps to your workflow or requiring you to buy expensive hardware. You don't want that, and neither do we. That's why we incorporated pill counting into our existing platform. That's right, Telepharmacy and Virtual Verification subscriptions automatically include TelePharm Count. That means you get more without paying more—it's an end-to-end workflow. The pharmacy technician counts pills within our application, so they don't have to abandon their station to perform part of the fill.
We're big fans of a more efficient, cost-effective way to fill prescriptions. But that's not all TelePharm Count has to offer. It also makes the entire process safer....
Keeping You Covered, Every Step of the Way
Everyone can agree that a safe fill is a better fill. When we developed TelePharm Count, we knew it needed to provide users with peace of mind. That's why our pill-counting technology keeps a record of every fill, which is accessible at any time. The technician imaging kiosk takes a photo of each step in the process—from hard copy to the actual product. These images offer extra digital verification and electronic audits so the pharmacist can confirm that the correct quantities get dispensed.
Every step is logged and tracked in case the pharmacist or patient has any questions. This audit trail helps reduce medication errors by ensuring the five rights: patient, drug, dose, route, and time. Barcode technology also helps ensure patient safety and is recommended in conjunction with imaging to reduce the risk of errors.
Make Pill Counting Even More Accurate
Efficient? Check. Cost-effective? Check. Safe? Check. There couldn't possibly be any more benefits to using TelePharm Count, right? Wrong! We haven't even touched on accuracy yet, which is a pretty important component of pill counting. 99% accuracy is about as good as it gets, and that's what you get with TelePharm Count.
Unlike other pill counters, our technology recognizes gel caps, translucent pills, and obscure-shaped pills. Plus, you get immediate feedback and no calibration or training is needed.
TelePharm Count: It's More Than A Pill Counter
Because u receive TelePharm Count with Telepharmacy and Virtual Verification subscriptions, you get all the benefits of pill counting with the added bonus of more time. Aspects of the filling process move to the cloud in our solutions, which means the pharmacist spends less time on mundane activities.
"When we put our pharmacists in the cloud, we discovered that 40-50% of their time had been spent on mundane things like stuffing bags, stickering, and applying labels. Working in the cloud helps them focus on pharmacist-only activities."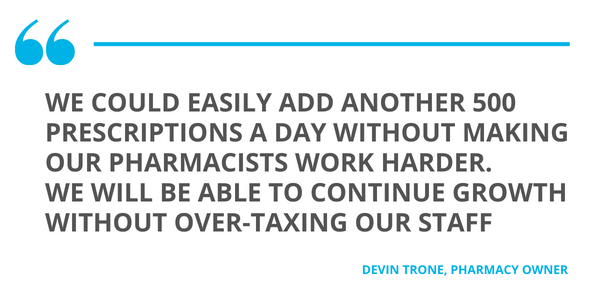 Propel Your Pharmacy Into The Future
TelePharm Count uses computer vision to make filling easy, safe, and accurate. But thanks to AI technology, the opportunities for improvements are nearly unlimited. Our product team is constantly coming up with new ideas and working on upgrades. Have an idea for a feature? Let us know!
Do you want to learn more about TelePharm Count? We have a whole page dedicated to it here. Ready to chat with a member of our team? We'd love to hear from you. Just send us an email.