Summers Pharmacy, a small chain of pharmacies in Missouri, was approved for the state's telepharmacy pilot program in early 2020. They are the first telepharmacy operation to be up and running in the state, which now permits the practice of telepharmacy statewide due to legislation passed this fall.
We spoke with Mike Sperry, PharmD who is the Director of Pharmacy for Summers, about his experience with telepharmacy and how he sees the pandemic affecting the future of the practice.
Give us an overview of your journey into telepharmacy.
Since we opened our first location in Clinton, Missouri we have sought to grow the business and bring independent pharmacy to our neighboring communities. We have 11 locations across Missouri, and when the opportunity arose to pursue telepharmacy, we felt the town of Slater would be a good fit for that model.
It really began with our opening of the Marshall, MO location. Marshall is about 15 miles away from Slater, and when we opened the Marshall site, we had much of the Slater community reach out to us about pharmacy services. Slater had a pharmacy in town for a long time, but 6 or 7 years ago they closed up and the prescriptions were sold to a pharmacy here in Marshall, but making the half hour round trip was not convenient for folks in Slater.
Slater has a population close to 2,000 people, and it's been declining in recent years. It's a pretty rural community that is widely dispersed between the town and surrounding country.
Because it's a population of primarily older people and those of lower-income status, the city council and the local doctor's office approached us about possibly providing pharmacy services to make it easier for residents of Slater to get their prescriptions. We were aware of the challenges of the declining population, decreased insurance reimbursements, and increased competition from big chains and mail order pharmacy, so we knew a traditional pharmacy simply wouldn't work. We knew we had to find another way, and telepharmacy seemed like the perfect solution.
How did you first hear about telepharmacy?
The first we heard about telepharmacy was when the Missouri board of pharmacy announced the pilot program last year. We had thought about it a bit but didn't really consider pursuing it ourselves until our rep from TelePharm reached out to us to see if we'd like to be the ones to run the pilot. As we were considering it, we went to visit a couple telepharmacy locations in Iowa and at that point we were sold on it.
The TelePharm platform was user friendly and seeing it in action helped us get over a lot of the concerns we had.
Unfortunately, once we decided to move forward with the pilot, things moved a bit slow for us due to the pandemic. We ideally would have been up and running with the telepharmacy location by the spring of 2020, but with all the delays, we were only able to get officially rolling in September 2020.
What has been the result of the pilot?
Since we've gotten things going, everything has gone really well. The TelePharm platform has been really easy to work with and all our staff had an easy time learning the system. All the integrations with our other softwares have also been smooth, so it's been a great transition overall.
On top of that, it has really been a great fit for the town. One of our most experienced technicians who worked at our Marshall location actually lives in Slater, so we went ahead and had her transition to being the store manager for the Slater telepharmacy. In addition, the pharmacist-in-charge of both the Marshall and Slater locations also lives in Slater. He works on a daily basis in the Marshall site, but his proximity to the telepharmacy makes it really easy for him to stop by and check in on things
We're averaging around 60-80 prescriptions a day at the telepharmacy, and on a few busy days we have broken 100. The capability to connect remotely to our pharmacist makes it possible to keep the location open with a lower volume, whereas having a pharmacist there full time would make it really tough to sustain it financially.
What feedback have you gotten from the town of Slater since opening the telepharmacy?
Slater's city council and the town in general have been thrilled. As I said, it took longer than expected to open up just due to the pandemic and government hangups, but the town was really nice and understanding. The whole time they were very eager for us to be in there, and we got a lot of questions about when we'd finally be open. Now that we're here, we've gotten plenty of feedback from folks that they're happy to have a pharmacist available, and the fact that we're in the downtown strip helps to drive more traffic into town.
I know the city council is excited about the extra income for the town as well. When the Slater pharmacy closed several years ago, more patients were going into Marshall to get their prescriptions at the Walmart where they'd buy groceries and other things, really taking money away from the local Slater businesses. They saw a considerable decrease in traffic downtown without a pharmacy in town, so they're happy to have a reason for residents to come into town and patronize local spots.
The other feedback we've gotten is from the local doctor's office. Since the pharmacy was so far away before, the doctor noticed patient's would go a couple weeks without picking up their prescriptions after the appointment. This was certainly not ideal for the efficacy of the treatments, but now they have much more confidence that their patients are getting their prescriptions in a timely manner since we're just right down the street.
You are the first to open a retail telepharmacy in MO, did you have any reservations
Some concerns we had were about implementation with our other pharmacy softwares and whether our pharmacists could really do this safely. We weren't sure about verifying and dispensing prescriptions remotely, but once we visited some telepharmacy sites up in Iowa and saw the software in action, we realized how high quality the images are and how seamless the system is, and it really eased any of those fears right away.
The other concern was about having a pharmacy technician working by herself managing the whole store. She and we were a bit nervous for the first few days, but she did an outstanding job and it's been really easy for her to communicate with the pharmacists at any time via text or video calls if she has any questions.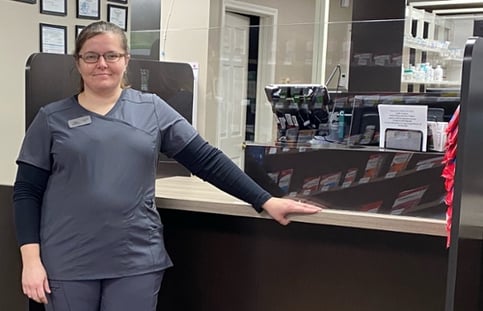 Amanda Pycke is the technician and location manager of the Slater telepharmacy.
What opportunities do you see for telepharmacy and shared services in pharmacy going forward?
The bigger impact that we're trying to have on the regulatory front is in regards to workload balancing. Missouri's regulations say you can only have one verification site to one telepharmacy site. Other states allow a telepharmacy to have multiple verification sites which allows for better workload balancing. With 11 locations, we'd like to implement telepharmacy across more of our locations, not necessarily for the purpose of having a fully remote pharmacy like Slater, but so we can disperse the verification workload across the various locations, making us more efficient.
Operation Warp Speed is underway in the U.S. Do you see workload balancing as a potential solution to help pharmacies handle this increased workload?
I think there could be a HUGE benefit with telepharmacy if the legislation could get there. With our multiple stores, we could really benefit from workload balancing with the volume we handle, but especially now with COVID-19 vaccines being distributed.
We have such a varying volume of fills across stores, so if we could have our stores with multiple pharmacists on-site delegate one pharmacist to focus on clinical services, we could then have other stores help verify prescriptions. With 11 stores, there are instances where the traffic at our one-pharmacist location is heavier than a two-pharmacist location. This means we've got one pharmacist doing more work than two, and that's just an inefficient use of our workforce.
I think workload balancing actually allows you to provide better service to patients. At a location with one pharmacist, for instance, if the pharmacist is giving an immunization, the other patients in line have to wait until they're done so the pharmacist can counsel them. But when you have workload balancing, if the pharmacist on-site is giving an immunization, patients can simply go to the tablet and initiate a remote consultation call with the first available pharmacist at one of our other locations. This saves everyone time while still providing quality care.
How did the pandemic affect your decision to pursue telepharmacy, and how do you foresee it affecting future adoption of telepharmacy?
It didn't really affect our decision, but it was interesting that Missouri had some emergency rules that came out as a result of COVID-19 and because of our status as the pilot pharmacy for telepharmacy, we were already set up and able to practice. I foresee down the road that telepharmacy will be easier to get in the mainstream and get passed in other states, simply because we've seen throughout the pandemic how easily things can be done remotely and how necessary it has become.
I know with our location, it has really helped us do more social distancing. Patients no longer have to drive 30 mins to another town and thus increase their exposure. Additionally, we feel like workload balancing would be really helpful across our 11 locations for times when staff are sick? It would really help us manage the ebbs and flows of staffing challenges.
Telepharmacy has had a great impact so far with just the one location in Slater, but the impact can be so much greater if we can continue to leverage this technology to serve more patients and work more efficiently.
Want to learn more about telepharmacy? Click below!