Have you ever been in a canoe with another person, but you only have one oar? You're rowing as fast as you can, flipping the oar from side to side to keep the canoe straight, all the while going incredibly slow and working incredibly hard.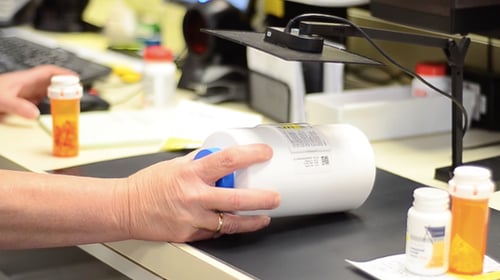 Managing the operations of multiple pharmacies shouldn't feel like that. Maximizing the efforts of your on-hand staff across pharmacy locations is key to running as efficiently as possible, while keeping your pharmacists free to perform their clinical duties.
Enter: the idea of an agile staffing model. A solution that makes each one of your locations and pharmacists more efficient by automatically balancing the workload company-wide. What if this model could reduce costs while increasing clinical offerings in some of your stores?
If you've ever dreamed of a staffing model of this nature, you're not alone. Virtual Verification is here, and it's a game-changer.
Reduce costs and increase service? But how?
Let's say you have 4 pharmacies, and we'll name them pharmacy A, B, C and D. Locations A and B process 100 prescriptions per day with one pharmacist at each location (100/RPh). Locations C and D process 500 prescriptions per day with 2 pharmacists at each location (250/RPh).
With Virtual Verification, the prescription verification load can be shared across all stores and pharmacists. This allows the pharmacists from locations A and B to help verify prescriptions for locations C and D via remote-verification technology. As a result, each pharmacist verifies 200 prescriptions per day and fluctuations in volume are easily absorbed by balancing the workload.
Nearly ⅓ of patients report that the pharmacist looked too busy to speak with them about their personal medical concerns.



- Consumer Reports Annual Questionnaire 2014
In other words, locations A and B grab their oars and really get the canoe slicing through the water.
But really, how?
Cloud-based "smart queues" allow pharmacists at multiple locations to assist with the verification workload. Technicians capture images of each prescription which are then automatically routed for verification to the first available pharmacist in your organization.
In 2016, one study showed pharmacists spend approximately 40.3% of their time on value-added tasks.
Virtual Verification can make pharmacists more accessible to patients without interrupting the operational workflow. When the pharmacists' time is freed up, they are able to focus on patient care, clinical activities and various revenue-generating tasks.
With Virtual Verification...
Peak volumes are automatically balanced between sites and the result is a more efficient staffing model which aligns prescription volumes evenly across all stores.
Do your pharmacies suffer from an inefficient distribution of the workload? Do some of your locations experience a greater prescription volume than the others? You don't have to keep letting one location do all the rowing!
Learn more about the benefits of Virtual Verification by clicking below, or contact us if you'd like to discuss in-depth the process of implementing TelePharm's Virtual Verification solution.