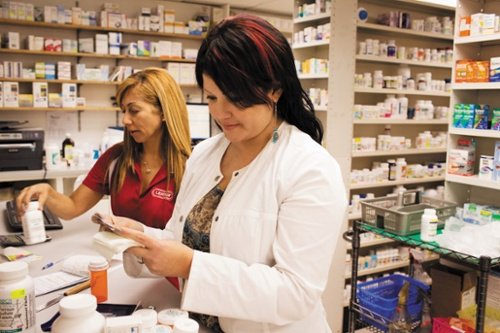 Residents of Phoenix know what it's like to live in a desert, but did you know that deserts can be found in areas that are not hot and dry? Deserts can be found from the coastline of Chile to the North Pole, and are classified as deserts because of one common feature: they are places that lack something (in this case limited precipitation).
The same can be said for pharmacy deserts. Pharmacy deserts exist in rural and urban areas, but the problem remains the same: these areas have limited access to pharmacies and the services they provide.
For more detail on what a pharmacy desert is, see our article what is a pharmacy desert?

Here are 5 ways that you can help improve access in pharmacy deserts near you.
1. Pharmacy Prescription Delivery
This is a logical option. Do your patients have trouble getting around, or maybe they don't have a car? No problem. By offering door-to-door delivery, your patients can pick up their phone or order online, and your delivery driver takes their medications and delivers them to the comfort of their home.
Advantages: Home delivery is very convenient for patients. They can have their prescriptions delivered all while not missing a single episode of Judge Judy. Delivery also provides great customer service by building trust, relationships, and showing your patients you care about their healthcare needs. In return, you will earn their loyalty.
Disadvantages: The logistics and cost of implementing a delivery service can be challenging. Time, fuel, insurance and figuring out how/when you are going to get deliveries to your patients must all be taken into consideration. What if a patient needs their medication immediately but your delivery driver just left? Another problem is synchronizing the timing of delivery with your patients. How many times have you been in the shower only to hear the doorbell ring? We've all been there. Will your patients be home when you deliver, or will you risk putting a patient's medication in their mailbox or on their doorstep where theft is possible?
2. Mail Order
With this option, it works exactly how it sounds; you mail medications to the patient's home instead of utilizing a driver or courier to deliver. Again, this option makes sense for those that do not have reliable transportation, those who don't have a local telepharmacy, or those who just want to see their mailman (or woman) more often.
Advantages: This is a great option for patients who have medications they take regularly. It can provide them with the convenience of home delivery and potential lower out-of-pocket costs for 90-day supply of medications.
Disadvantages: Unfortunately, this isn't an option for acute care needs or refills called in last minute. The time it takes from initial order of medication to delivery can take several days or even weeks (unless drone delivery kicks off), leaving the patient playing the ol' waiting game. There is also potential for theft, lost packages or deliveries to the wrong address, which are a hassle for the patient and compromises their privacy. Temperature regulation (hot and cold) can also be an issue if left outdoors all day (especially in a desert).
3. Prescription Drug Lockers
Prescription drug lockers are described by the University of Colorado as an ATM for prescriptions. There are some variations to how this works, but for the most part they have the same process as an ATM. Patients go to a kiosk, enter a code, sign their name and voilà, out pops a prescription.
Advantages: The great thing about pharmacy drug lockers is the practicality it provides for the patient. Patients can pick up prescriptions at their convenience, even if the pharmacy is closed. These are generally large and extremely secure, so no worries of theft. An added perk for the locker owner is the ability generate additional revenue through ads on navigation screen (let's let Pepsi and Coke have a bidding war).
Disadvantages: It's hard to beat the convenience of drug lockers, but they are not for everyone. The availability of the patient's prescription depends when the drug locker is stocked, and patients who have low technological literacy might find this process difficult and frustrating. What about large-sized or refrigerated medications like insulin, or antibiotics? Some of the pharmacy lockers are not equipped to handle these medications. Lastly, lockers can be expensive to initiate and maintain, and they require a technology professional to deal with any issues.
4. Telepharmacy
What is Telepharmacy? How does it work? In short, telepharmacy allows a pharmacist to remotely supervise a pharmacy technician at a brick-and-mortar pharmacy location through audio and visual technology. Many telepharmacies are opening next to or inside medical facilities around the U.S. Here is a video which explains the process in more detail.
Advantages: Telepharmacy provides the same clinical access and review by a pharmacist that a traditional pharmacy does, but allows the pharmacist to provide their services where it was previously not economically viable. Rural patients no longer have to travel to neighboring towns to fill their medications. Urban patients no longer have to take two buses, or walk long distances to their local pharmacy. In areas that cannot financially support a traditional pharmacy, telepharmacy provides a cost-effective solution by offering expanded pharmacist access through remotely supervised technicians.
Disadvantages: Not all states have rules and regulations to operate telepharmacy. Not sure if you state allows telepharmacy? Pay a visit to the interactive telepharmacy regulations map. A telepharmacy also requires staffing and training of pharmacy technicians, as well as learning new software and making visits to the telepharmacy site as often as your state requires.
5. Physician Dispensing
Physician Dispensing is the one-stop shop from the doctor. This refers to the physician's ability to dispense medications directly from their office.
Advantages: Physician dispensing can save the patient a trip to the pharmacy and increase patient compliance in some cases because they leave the office with prescription in hand.
Disadvantages: This is a viable option for health conditions that require a one-time fill, but for conditions that require multiple refills, going to the doctor for prescription refills can become cumbersome. Physician dispensing also bypasses the drug expert, the pharmacist! The system of checks and balances is disrupted because the pharmacist cannot identify problems such dose, duration or drug interactions. Logistically, this idea can be difficult and expensive to initiate since resources need to be dedicated for managing the space, time and inventory to dispense medications (unless a telepharmacy can be opened in the clinic instead). Also, most of the time physicians don't want to deal with the legal hurdles of pharmacy.
Improving access to pharmacy services to those who have limited access is vital to the health and well-being of the patient. We are shifting to a value-based care system, and continue to look for ways to improve access and outcomes all while paying attention to costs. The delivery services and pharmacy lockers provide convenience, physician dispensing can be a time saver and telepharmacy provides local access to a pharmacist. These options are like an oasis in the desert. They give communities the much needed relief from pharmacy deserts because no the matter the circumstances, everyone needs convenient access to healthcare.