A retail telepharmacy, or remote-dispensing site, operates like a traditional pharmacy except for the pharmacist reviews prescriptions and counsels patients from a remote location. To get a better understanding, let's dive a little deeper.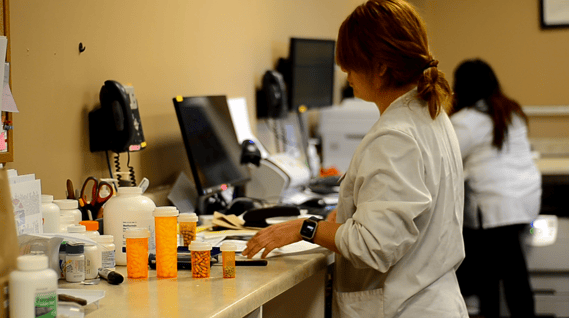 Retail telepharmacy technology has drastically changed since the North Dakota Telepharmacy Project paved the way in the early 2000s. Although hardware solutions were the standard for the first telepharmacy pilot projects, they are cost-prohibitive and expensive to repair and update. Today's new telepharmacies use software to ensure patient safety and enhance their workflow. To be sure we're on the same page, we're discussing retail, outpatient or discharge telepharmacy. Click here If you're looking for information on other types of telepharmacy.
Without further ado, here's how telepharamcy works in four simple steps. P.s. if you're a visual learner, watch our short video on how retail telepharmacy works:

1. A prescription arrives at the pharmacy
Similar to a traditional pharmacy, prescriptions enter through the pharmacy management system (PMS). Telepharmacy software integrates with pharmacy management systems for a seamless, real-time experience. This allows the certified pharmacy technicians who operate the remote-dispensing site to focus on filling prescriptions.
2. The prescription is filled
After the prescription arrives at the pharmacy, a technician prepares it to be dispensed by the pharmacist. For the prescription to be filled and verified in a modern telepharmacy, technicians capture and send images of the script, medication labels, pills, and the medication bottle with the lot number and expiration date exposed to the remote pharmacist. These images, along with the patient's profile, are securely stored on the cloud for review before, during and after verification.
When telepharmacy first started, technicians would send prescription information to off-site pharmacists via live-video connection. This was an inefficient practice as both the pharmacist and the technician had to be at their computer on the same screen at the same time. Modern telepharmacy software, such as ours, has since transitioned to an image-based workflow which helps optimize productivity by organizing the pharmacist's workload. This type of cloud-based telepharmacy software is notably cheaper than the expensive, hardware-based alternatives still available today.
Best of all, there are less dispensing errors that occur at telepharmacies when compared to traditional retail pharmacies. This is due to multiple built-in redundant checks, hard-halt workflows and HIPAA-compliant security. According to the U.S. Department of Health, telepharmacies' error rate is less than 1%, a 50% improvement over traditional practice and half the national average.

3. The pharmacist reviews the prescription
Before verifying the prescription, pharmacists review the patient's medication profile for drug interactions and other potential problems. After the pharmacist reviews the images they can either approve or reject the submission. If rejected, the pharmacist will leave notes for the technician regarding the discrepancy. If approved, the technician is notified and the medication is packaged and placed in will-call for the patient.
In a modern retail telepharmacy network, one pharmacist can verify prescriptions for multiple pharmacies or the workload can be shared between multiple locations thus decreasing overall costs.
Looking for more info? Download our beginner's guide to remote dispensing in the retail pharmacy!
4. Live-video patient counseling
Before prescription medication can be dispensed to a patient, they must speak with the pharmacist via a live-and-interactive video counseling session. The remote pharmacist has all necessary patient information, including medication history, readily available during counseling. Patient-counseling sessions are safe, secure and private due to the HIPAA-compliant live-video HD connection provided by most telepharmacy solutions.
That's how telepharmacy works!
Look at you, you remote-dispensing maven, you. Here are three quick takeaways:
A telepharmacy operates like a traditional pharmacy except for the pharmacist reviews and verifies prescriptions from a remote location.

Retail telepharmacies experience less dispensing errors than traditional retail pharmacies.

One pharmacist can review prescriptions for multiple pharmacies, or the workload can be shared between pharmacists in multiple locations.
Thanks for reading! Interested to see if telepharmacy is legal in your state? View our regulations map to find out!