This Women Pharmacists Day, we're highlighting Sally Myler, owner and pharmacist for Corner Drug and Victor Drug in Driggs and Victor, ID, respectively. Sally has been a pharmacist for 22 years, and shared with us her experience as a woman pharmacist
What made you want to become a pharmacist?
Growing up, my father was a pharmacist and had multiple pharmacies, so I was around pharmacy ever since I was little. I loved going with him to give insulin shots and coming down after hours when he needed to open up the pharmacy for an emergency. We had three pharmacies and the people that worked there were really part of our family. However, growing up it was never something I even thought about. Once my little brother was born 15 years after me, I think my dad always really wanted him to follow in his footsteps.
In my early twenties I found myself divorced with a daughter to raise and felt like I wasn't really maximizing my abilities in my career, so I decided to make a career change and get into pharmacy. I went back to school to study pharmacy, and that's how I got started.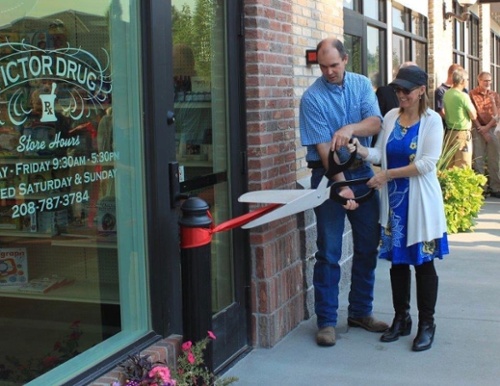 Sally and her husband, Aaron, cut the ribbon on their Victor Drug telepharmacy location in Victor, ID.
Tell us about your pharmacy experience so far and how you came to own your own pharmacy business.
Well, as I said, I grew up in a pharmacy since my father was a pharmacist. My first job was working the soda fountain when I was ten years old. I got to work as a technician for him later when I got older. After pharmacy school, I did a residency for a year with the Boise VA and absolutely loved it because I never touched drugs. It was all people-centered and I got to work with the medical team. After that, I had pharmacist positions at Costco and at a home infusion pharmacy, and then a small medical pharmacy system. Having experienced several different realms of the pharmacy profession, I can tell you the differences are night and day between both pharmacy in the VA and in an independent pharmacy for instance, compared to the big box stores. It really taught me early on that I enjoy people and having a more active role in clinical tasks as opposed to just filling prescription bottles.
Sometime before 2002, my dad was starting to think about retirement, so my husband and I decided in 2002 to move to Driggs and officially took over the pharmacy business for him so he could retire. Now we have Corner Drug here in Driggs and a telepharmacy site in Victor.
Historically pharmacists are predominantly older males, tell us about your experience as a woman in pharmacy.
Growing up in pharmacy, I met a lot of pharmacists, but there was really only one woman pharmacist I can remember seeing, because it was predominantly older men who were pharmacists back then.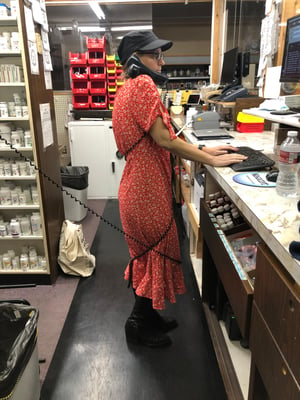 Although when I was young I loved biology and chemistry, the sciences in general weren't really a women's field at all, but by the time I went back to school and got into pharmacy school, my class was about half and half men and women.
I had remarried during pharmacy school and we were waiting to have more children. After graduating and completing my residency we added to our family, and I can say that pharmacy has been a great profession for me as a mother since it has allowed me a lot of flexibility to choose my schedule and be active in caring for my kids. This flexibility was more true when I worked relief before owning our own business, but It was always very important to me to use my knowledge and education in a career and to also spend time with my kids, without sacrificing one or the other too much. Pharmacy has certainly allowed me to do that.
With my own kids, I've always talked to them about pharmacy as a career option, and it turns out that both of my daughters were technicians for me when they were younger, and one of them actually became a pharmacist, so it's kind of like that tradition is being passed on from me to her. Maybe someday she'll come back to Driggs and take over the store for me!
Tell us about the Corner Drug pharmacy in Driggs. How long has it been there, who started it, and when did you take over?
My great grandfather started the pharmacy in Driggs back in the early 1900's, and it has maintained a lot of its original character and charm. It's an old-fashioned soda fountain shop that has served as a general store for the town, selling things like hunting ammo and fishing licenses and all that. We don't have any of the big box stores in town or close by, so this is really the place where people come to get their essentials. It's right in the middle of town on the corner of our busiest intersection, and it has been a staple in the community for over 100 years.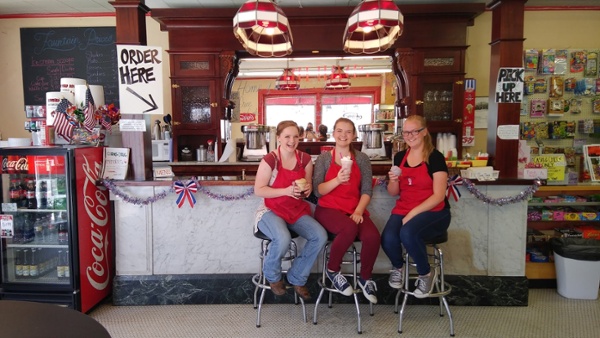 Members of the staff at Corner Drug enjoy some refreshments at the soda fountain.
When I came to town to take over for my dad, I just loved the vibe of it compared to my experience working in other settings where you don't get any patient interaction at all. It's such a great little community, and when you're in a community like this and really get to know everyone and care for them personally, it's just a great feeling. I even have people come up to me at the grocery store and post office to ask questions about their prescriptions.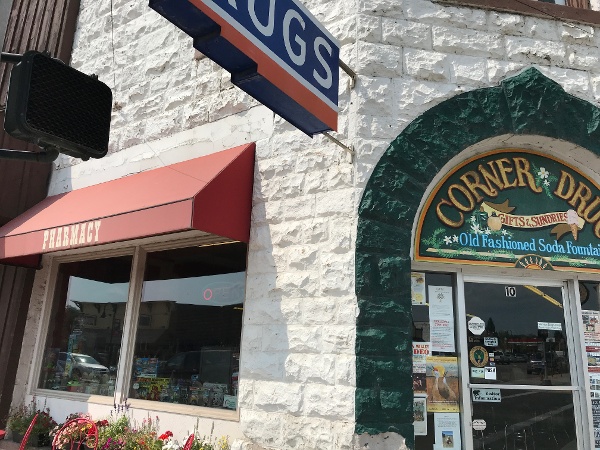 The exterior of Corner Drug in Driggs, ID. A staple in the community for over 100 years, serving all sorts of needs for the community.
There have been times where I've sat down with people to help them get online and navigate Medicare Part D and things like that when they just need some guidance (I don't provide any recommendations, just guidance!). We're involved in the book fairs in the elementary schools and other events like that and really play an active role in the community. As independent pharmacists, there is no question that we provide the best possible care for our patients because we take the time to develop real relationships with people.
What are some of the ways you've innovated throughout your career to improve the pharmacy business and the level of care you provide your patients?
About two years ago we implemented the telepharmacy location in Victor, which has been very successful. Idaho is a progressive state as far as pharmacy goes, and pharmacists have some prescribing authority, so we're involved in implementing some prescriber roles for UTI's, cold sores, and things like that. We're also getting into point of care testing for strep, flu and COVID, and we're starting to get into vaccinations for flu and hopefully COVID, when it's available.
Being a pharmacist for 22 years, what motivates you to keep pushing things forward and innovating?
Unfortunately, some of the need for innovating and finding new ways to provide value is just a result of the decreasing returns we get from the insurance companies and the increasing DIR fees. Making ends meet in a pharmacy is tough and you really have to do other things beyond just prescription dispensing in order to make it.
Besides the financial strain, adding services has great benefit to the community and even to local hospitals. For instance, by partnering with our local health care system to provide certain immunizations covered under Medicare Part D, we are ensuring the health of our patients.
The patients need the local care of a pharmacist, and we have the knowledge and expertise to do so much more than just filling bottles with pills. The key is to find those tasks that are adding value for the patients, but that you can also get reimbursed for and keep the business strong. I know that if we weren't able to survive, it would leave a major hole in this town and people would be really hurt by it. We love the people in this community, and serving them as well as possible is something we take pride in, and in order to do that, we have to continue to push forward and innovate in different ways.