"I foresee telepharmacy being a big part of our future plans in regards to growth," said Brett Barker, VP of Operations, NuCara Pharmacy.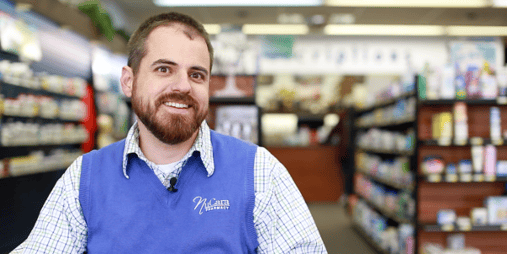 NuCara Pharmacy, a full-service community-based pharmacy, started as a small retail pharmacy over 20 years ago. Now with more than 20 locations in four states, NuCara strives to be one of the leading healthcare providers in the areas that they serve.

We sat down with Brett Barker, and discussed why telepharmacy, what was important in regards to their decision and alternate solutions currently on the market.
Q:
Why telepharmacy?
A: "A while ago we had a discussion with the Iowa State Board of Pharmacy about Zearing, Iowa, a location we were looking at opening a telepharmacy, but we couldn't move forward due to a cost-prohibitive requirement for an automated medication dispensing system (AMDS). Shortly after, we heard about the opening of Victor Drug and talked with Todd Thompson, the owner, who converted the pharmacy into a telepharmacy.

We were always aware telepharmacy was there. We heard about the North Dakota Telepharmacy Project a while back and looked into it some more."
Q:
What was important to you in your buying decision?
A: "Customization was an important factor. We really liked the fact that the software could be tailored to our specific needs. In addition to that, lower upfront costs played a major role. It's hard to justify paying a ton of money for a hardware-based system.
In addition, the queue-and-image based workflow works great for both remote verification and managing the pharmacy. With live-video telepharmacy solutions, both people have to sync up and it creates an environment for errors to occur because the pharmacist or the technician is rushed."
Q:
Did you look at any other telepharmacy solutions?
A: "We demoed multiple solutions and there were a lot of hardware costs. They just weren't as versatile as the TelePharm software platform. The other solutions seemed unchanged from a long time ago, and they even said that they would never try and sell us an updated model. Well, we're going to need one because technology moves so quickly. That's precisely why a software solution works best. The flexibility of the software is driving TelePharm's business."
Q:
How has your experience with TelePharm been?
A: "It's been very good. There's been a lot of updates made to the software and we've been able to suggest a lot, too, so that's good. The tech support is very reliable. I can make a suggestion and say it would be really nice if we had this feature and I know TelePharm will work to make it happen."
Q:
Would you recommend TelePharm or telepharmacy to others?
A: "Yes. The industry is having difficulties serving rural communities and there's also a lot of independents out there looking for exit strategies to keep their pharmacy going. Telepharmacy is the way that we can bridge those gaps in care.

From a workflow, ease-of-use perspective, TelePharm is the leader in almost every category in the industry. TelePharm is head and shoulders above any other telepharmacy product that we demoed."