Donavan Smith is the Director of Pharmacy at Wayne Community Health Center in Bicknell, Utah. This year, they worked with the Green River Medical Center in Green River, Utah to open a telepharmacy location within the clinic so the residents of Green River could have access to pharmacy services. Bicknell is located 113 miles from Green River, a two-hour drive, but through telepharmacy, Donavan Smith and his pharmacy team are able to bridge the care gap and provide a vital service to these rural residents.
Below is our conversation with Donavan Smith about how he implemented telepharmacy in Green River and the impact it is making on the community.
Talk to us about the community of Green River and their access to pharmacy services.
The population of Green River is about 900 people, and the town is 60 miles from the nearest pharmacy. There used to be a pharmacy in Green River a very long time ago, but prior to us coming in, they had been without a pharmacy for a long, long time. The residents of the community had to drive 120-130 miles round trip just to pick up a prescription.
Since pharmacy services were not available in town, they tried to make things easier on patients by delivering prescriptions to the Green River Medical Center (GRMC). However, patients would have to wait until the following day for their prescription to be delivered to the clinic. This was not an ideal solution, especially for those who were sick or needed their medications right away. The town and the GRMC knew they needed to provide a better solution for residents of Green River.
When did you first hear about telepharmacy, and what was the process like to get it implemented?
It was about two years ago when I first heard about telepharmacy. I attended a presentation at the Utah Pharmacy Association conference which was actually being given by someone from TelePharm, and I thought it was a great model. At that point, we had been working with Green River to find a way to provide pharmacy services at the Green River Medical Center, but we hadn't found a solution that would be ideal and sustainable. When I heard about telepharmacy, I knew it was a solution that could work for us and we immediately got the ball rolling to get things approved through the state board.
From that point, we became very active in the state board of pharmacy meetings, and worked closely with the state to create a win-win situation that worked for all parties: the state, the patients, and the telepharmacy. The state had telepharmacy rules prior, but the rules weren't conducive to actually operating a telepharmacy. We worked with them all the way through to put laws into place that weren't so crippling and made telepharmacy functional in the state. We have tried to keep the lines of communication very open with the state during this pilot to ensure the program is run well and is an example of success in the state. (Utah officially updated regulations on November 22, 2019 to allow telepharmacy in the state. Get the Utah State Fact Sheet).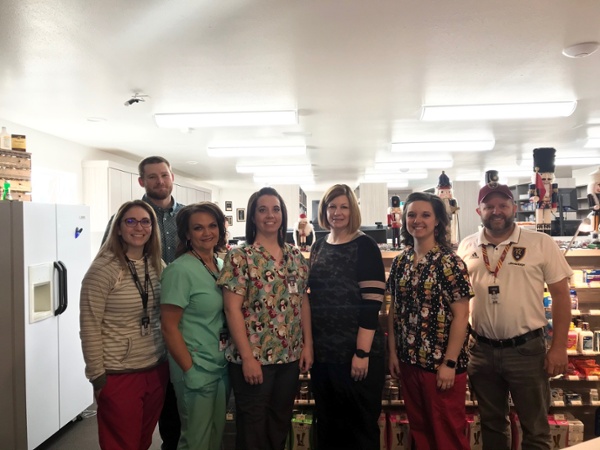 Front: Miranda Martinez CPhT, Jana Rees CPhT, Candis Fillmore CPhT, Shirley Morrill CPhT, Tisha Wood CPhT, Donavan Smith RPh. Back: Zack Taylor Pharm D.
Was a traditional pharmacy considered for Green River?
We initially analyzed opening a pharmacy with a full time pharmacist in Green River, but the prescription volume in town was just not enough to make that a viable option. The pharmacy would have run in the red continuously. For us to be able to tie into our existing pharmacy operations and staff a technician is a much better and more financially viable option to provide services to this small, underserved community.
Can you describe the process of working with TelePharm?
My first introduction to TelePharm specifically was actually at the UPhA presentation, which as I said was given by a member of the TelePharm team. Working with the TelePharm team has been phenomenal and they were very instrumental in the implementation of our telepharmacy, but also telepharmacy regulations in the state as a whole.
Even before we got to the point where we could open the telepharmacy, Alex (a Telepharmacy Business Consultant) helped give us the voice to be able to speak to the state board and present in a manner that wasn't adversarial at all, but rather explain to the state that this is a viable and safe solution that can help us serve Utah patients in underserved areas.
It is so easy to work with TelePharm. When it came to implementing this software, it was very simple - essentially plug and play. I feel that the software is really intuitive, I sat down at the computer and tried it out and thought, "This is easy, almost second nature," and it fits right into our current workflow.
What has been the reaction from the community and the patients? What impact has the telepharmacy had?
The Green River Community Impact Board's number one priority was to get a pharmacy in this town, and the patients have been waiting for this for a long time as well. It definitely has a positive impact, and the patients understand that having a pharmacist and technician readily available is very important. We are also bringing vital services to town beyond filling prescriptions like medication and health education, patient consultations, and building relationships with the providers at the clinic.
The pharmacy has really been a shot in the arm for the community. The people in Green River love that they no longer have to drive 60 miles to see the doctor, wait to get their prescription filled, and then drive the 60 miles home. Now they can get everything they need right there in town.
Can you describe the patient-pharmacist relationship in the telepharmacy?
Patients have said counseling with the pharmacist over the tablet actually feels more confidential than it does in a traditional pharmacy. The patients feel more comfortable talking about personal health issues with the pharmacist because using the tablet and handset allows for a more private conversation, as opposed to talking with the pharmacist at the counter where others can hear the whole encounter.
We have a team of pharmacists that tie in to verify prescriptions and counsel patients from our host location in Bicknell, including myself, Zack Taylor, PharmD, and Jenny Evans, PharmD, who also speaks Spanish, which is a great asset to be able to communicate with our Spanish speaking patients.
Even though we are not at the pharmacy in person, we are still building personal relationships with these patients because we see them and talk with them frequently on the tablet. We are getting to know them just like we would if they were walking into the pharmacy face to face. I feel like we are able to have just as personal of a connection with the telepharmacy patients as we do with patients in the traditional setting.
From your experience, how does the safety of telepharmacy compare to the safety in a traditional pharmacy?
There is a little bit of a learning curve, but I like to think of it as the difference between an ebook and a physical book; the main steps are the same, just in a different format. The safety is built in to the software and workflow and I don't feel like there is any additional risk than in a traditional pharmacy.
As a pharmacist you can view the prescription, the label, the drug, NDC barcode check, and any other important information and you have a record of it to look back on. The pharmacists and technicians can also talk with each other instantly at the click of a button if there are questions. I love the screen share feature which allows the pharmacist and technician to look at the same screen at the same time and work through any questions as if we were standing right next to each other.
Safety is a moot point in my book.
Are there other use cases or scenarios that you have your eye on as potential opportunities for telepharmacy in the future?
Right now we're focused on continuing to serve this community well and keeping our volume growing. That said, we do have some plans to look at expanding this program to other areas that also don't have pharmacy access.
What advice do you have for others who are looking to pursue telepharmacy?
Be open to the idea of telepharmacy, and don't be closed-minded and think there is only one model of pharmacy. Our telepharmacy has proven this is a feasible way to provide access to patients.
I'm a big supporter of telepharmacy, I feel it has the means to really change the dynamic of pharmacy. We are investing in the rural areas right now, but I also see that this is a definite benefit to urban areas as well.
If you'd like to hear more from TelePharm customers who have had success implementing telepharmacy, view our Success Stories here.
Not sure how telepharmacy works? No worries, just check out this quick video.