Immunizations are in more demand than ever right now, as the COVID vaccine has been rolled out and pharmacists have been called upon to help administer these with "warp speed." In order for pharmacies to stay on track with immunizations and their various clinical services both now and in the future, it will be important to modify existing workflows, elevate the role of pharmacy technicians, and reallocate pharmacy staff time to ensure efficiency is always maximized.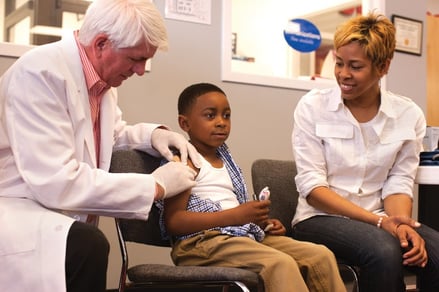 Balancing the routine prescription volume with patient consultations and increased immunization demand is going to require some adjustments on the part of pharmacies, but fortunately there is one adjustment that can be made that will have a trickle down effect on the efficiency of the pharmacy as a whole. That adjustment is implementing virtual verification, which streamlines prescription verification by taking the process "in the cloud" and removing much of the manual work typically involved with processing prescriptions.
Whether utilized in one pharmacy location, or across multiple sites, here's how the virtual verification process works:
The prescription arrives at the pharmacy
A licensed pharmacy technician fills the prescription and takes high quality images along the way of the bottle, medication, and the label.
In the virtual verification software, the prescription enters a virtual smart queue where it awaits verification from the first available pharmacist (whether this is an on-site pharmacist or an available pharmacist at a separate pharmacy location).
The pharmacist reviews and approves the prescription in the system, with full audit log and photo documentation saved for future reference. (The pharmacist has the option to reject the prescription and send it back to the technician for reprocessing.)
The goal with virtual verification is to allow the pharmacist to step away from the filling counter, spend less time on delegable tasks, and allocate more time to patient interactions and the necessary clinical duties that only pharmacists can do, such as administering immunizations in some cases. Naturally, the byproduct of this modification to the prescription verification workflow is the elevation of the role of the pharmacy technician.
Let's break down the effects of virtual verification on the pharmacy as a whole, and how it helps accomplish several goals for pharmacies such as maximizing efficiency, enhancing clinical opportunities, and clearing more time for immunizations.
1. Virtual verification elevates the role of the pharmacy technician
As you can tell from the description of virtual verification above, it requires the pharmacy technician to take on duties and assume more responsibility over tasks that pharmacists otherwise might be spending too much of their time on. Pharmacists have an important job to do, one that requires years of specialized schooling and sometimes a doctorate-level education. For pharmacists to spend large chunks of their day doing things like packaging, labeling, bagging, or even running a cash register can add up to a misuse of time and resources.
The more pharmacists can delegate tasks to their trusted and capable technicians, the better. By making the prescription verification process virtual, there is a clean delineation between pharmacist and technician responsibilities. The technicians handle the filling, imaging, labeling, and bagging of the prescriptions while the pharmacist can work through the verification queue at a quicker and more efficient pace without distraction and manual work associated with bagging and stapling prescriptions.
Devin Trone, RPh and pharmacy owner in Idaho and Oregon utilizes virtual verification to connect all four of his pharmacy locations (two traditional, two telepharmacies, with another telepharmacy in the works) in the cloud.
"When we put our pharmacists in the cloud, we discovered that 40% to 50% of their time had been spent on mundane things like stuffing bags, stickering, or applying labels. Working in the cloud helps them focus on pharmacist-only activities."
This extra work and effort by his technicians doesn't go unnoticed, as Devin says that among his pharmacies, they have a new title for certain technicians - they call them "Technician in Charge" or "TIC," a play on the title "Pharmacist in Charge," and this title actually comes with a pay increase. He says they do this because with this modified workflow, technicians really are playing a much larger role in the running of the pharmacy.
"Many of our TIC's say after just one week on the job that they didn't realize how much the pharmacist has to manage on a daily basis. They all realize the importance of taking that load off the pharmacist so they can stay focused on their pharmacist-specific work."
By elevating technicians in their role (and in this case, their titles and pay), without changing their scope of practice, Devin is providing a fulfilling career move for these hard-working technicians who otherwise might have hit a lower ceiling in more traditional pharmacy settings.
2. Virtual verification maximizes efficiency for all pharmacy staff
When talking about overall staff efficiency across all locations, Devin says that virtual verification has had a huge impact. Once they implemented virtual verification for their telepharmacy location, he came to the realization that this system could have benefits at all of his locations:
"It didn't take us long to realize we could use the same telepharmacy system as part of our quality control workflow for all our prescriptions. We have four locations, so you know that some aren't as busy as others. Instead of having scripts back up on the busier location, why not use the virtual verification process to distribute the workflow? Putting all of our pharmacists in the cloud helps keep any one pharmacist from getting overloaded."
For Devin and his staff, they didn't need the onslaught of vaccine demand to kick them into gear and realize they could be utilizing their staff more effectively. They've been enjoying the benefits of this increased efficiency for some time now, and because of that, Devin and his staff are going to be more prepared than most for the rising demand of immunizations year after year.
"We could easily add another 500 prescriptions a day without making our pharmacists work harder. We will be able to continue growth without over-taxing our staff."
3. Pharmacists can focus on immunizations and other clinical services
Imagine having a pharmacy workforce in which each pharmacist is spending time performing value-added activities and conducting vital patient interactions, all while your prescriptions are verified and processed in an efficient manner, keeping patients safe, happy, and cared for. For instance, if you are able to spend 10 fewer seconds on each prescription due to the efficiency provided by virtual verification, and you fill 200 prescriptions a day, that amounts to approximately 30 minutes extra per day, or 3.5 hours per week. You could administer several immunizations in that time, not to mention the option of also providing Medication Therapy Management or Point of Care Testing, both of which help your pharmacy drive major value for patients and revenue opportunities for the business.
Utilizing virtual verification is one solution that provides valuable benefits downstream for the whole pharmacy business. From the fulfillment for technicians who have a new opportunity for growth and career development, to the satisfaction of pharmacists who get to practice at the top of their licenses and focus on patient care, to the patients themselves who get to experience efficient and high quality service. Not to mention the effect that all of this can have on the pharmacy business's bottom line, it's a great way to utilize your existing pharmacy staff to its fullest potential.
If you're interested in exploring how you might implement virtual verification for your pharmacy practice, please feel free to contact us for a consultation!