Each day in America, millions of adults take some form of supplement, nonprescription or prescription drug. In fact, 66 percent of adults regularly find themselves on a regimen of five or more prescriptions. Handling so many medications at once can be overwhelming, so it's not surprising that patients make mistakes and medication adherence suffers. But, these mistakes can have big impacts.
Improperly taking medication leads to a higher risk of death and is responsible for nearly $300 billion in increased medical costs annually. It's estimated that around 30 percent of patients never fill a prescription and even more don't take their meds as directed. The reasons for this poor medication adherence among patients vary; side effects, confusion, worry, mistrust, cost and more.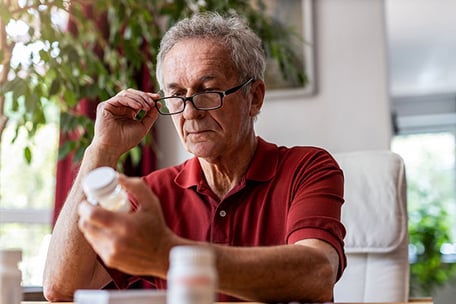 There is a bit of good news though. In recent years, new services have popped up with the goal of increasing medication adherence, in turn, reducing hospitalizations, deaths and excessive spending. Two of these services include medication therapy management and telepharmacy.
Medication Adherence and Medication Therapy Management
Non-adherence is not a new phenomenon. In fact, back in 2006 the Institute of Medicine released recommendations to address the issue. Empowering patients by educating them on their medication in order to boost self-management was one recommendation. The IoM also encouraged patients to keep a record of all current medications, prescription or not.
Both of these recommendations are also tenets of medication therapy management (MTM), which was first acknowledged by the federal government in the Medicare Prescription Drug, Improvement, and Modernization Act of 2003 (MMA). Per the act, MTM services are expected to enhance patients' understanding of drug use, increase medication adherence and improve detection of adverse drug events.
Improving Medication Adherence through MTM Services at Pharmacies
Who better to help patients understand meds than pharmacists? Pharmacists are medication experts, and they are becoming an increasingly important part of the patient care team. A pharmacist can provide healthcare services when and where a patient needs them (think grocery stores, pharmacies, hospitals or health care facilities).
Plus, pharmacists typically have access to a patient's medication record, which can include prescriptions written by multiple medical professionals. This is extremely helpful when creating a medication-related action plan, as a pharmacist can see exactly what a patient is taking and if there may be any problematic interactions.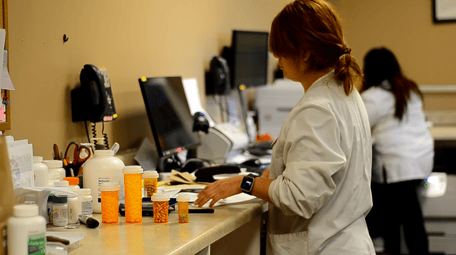 There's also an element of trust when it comes to visiting the same pharmacist or pharmacy regularly. People like routines, so it stands to reason that someone would be more likely to listen to a person they see regularly and trust. In fact, pharmacist involvement has been proven to have a positive impact on patient compliance and a decrease in hospital visits.
Almost everyone taking medications and/or supplements can benefit from medication management therapy. But what if there isn't easy access to a pharmacist or other health care professional?
This is where telepharmacy comes in!
What Is Telepharmacy?
So, what exactly is telepharmacy? Telepharmacy is defined as "the provision of pharmaceutical care through the use of telecommunications and information technologies to patients at a distance," by the National Association of Boards of Pharmacy.
Ninety percent of medications in the United States are dispensed through community pharmacies. However, in rural areas, closures of these pharmacies are becoming more prevalent. This disrupts access to medication and negatively impacts medication adherence. With telepharmacy, people in medically underserved areas (MUAs) have a way to conveniently reach a pharmacist, even if they aren't located in the same area.
But, how exactly does telepharmacy work? So glad you asked! A prescription arrives at the pharmacy and is processed by a tech who takes photos of the filling process which are then securely stored. The photos and prescription are then reviewed and verified by a pharmacist. When approved, the prescription can be released and the pharmacist then counsels the patient via a live-video feed.
In TelePharm's cloud-based software, the Virtual Verification solution expedites the filling process, untethering pharmacists from the counter and giving them more time to interact with patients.
The TeleCounsel solution covers the final stage of telepharmacy, connecting patients with pharmacists through a video call. Let's dive a little more into both Virtual Verification and TeleCounsel. .
The Case for Virtual Verification
As we've already pointed out, pharmacists are trusted and knowledgeable members of the healthcare team. But, they can't be as helpful to patients if they are too busy filling and verifying medications. That's where Virtual Verification comes in.
Rather than spending hours manually filling prescriptions, Virtual Verification removes much of the manual workflow from the pharmacist, allowing them to step away from the fill counter and spend more time on clinical tasks. While the pharmacist is busy, say giving a vaccine or counseling a patient, the pharmacy technician continues the fill process—counting, taking photos, bagging prescriptions and putting them in a will-call so that they are ready for pickup pending pharmacist approval.
Virtual Verification also allows a single pharmacist to verify prescriptions for multiple remote telepharmacies operated by certified technicians. This means more patients can be served at more locations thus expanding patient access to pharmacy services and increasing the likelihood of medication adherence. It also means that pharmacies are more efficient and accurate. It's what we like to call a win-win!
Counseling Patients via Live Video
We covered patient education earlier when talking about medication therapy management, and TeleCounsel offers a way for pharmacists to remotely walk through each medication, including over the counter and prescription items, with a patient via a HIPAA-compliant, secure video call.
If it sounds pretty easy to use, that's because it is! Patients initiate a video call with a pharmacist located in a different area—kind of like using a secure version of FaceTime. The pharmacist can answer any questions and provide information specific to a patient's needs. And remember, medication adherence is more likely to occur when a patient is confident and understands their treatment plan.
TeleCounsel can be used in a variety of situations: upon discharge at a hospital to improve or at the point of care to close the gap between patient, pharmacist and provider.
Pharmacists have a very up-to-date knowledge of medicine, and are able to step in and make sure that the right drug, dose and duration have been chosen. Plus, they can catch any potential negative interactions with any other medications a patient is currently taking.
Telepharmacy Software and Medication Adherence
Eric Maroyka, PharmD, senior director of the Center on Pharmacy Practice Advancement at ASHP, said telepharmacy is an "opportunity to improve patient outcomes, expand access to healthcare and…enhance patient safety." Telepharmacy helps bridge geographic gaps, offering access to medical professionals in underserved areas that need it most.
Additionally, telepharmacy can easily be used almost anywhere; in clinics, senior living centers and mental health centers, making it possible for patients to receive counseling from dedicated specialists. This easy access to care, along with increased workflow efficiencies for pharmacists and medication therapy management services, helps improve medication adherence.
Ready for more information on all of TelePharm's solutions? Check them out now.
Not sure if TelePharm is available in your area? Take a look at our Telepharmacy regulations map.