Idaho was one of the first states to allow the practice of telepharmacy, and when they did, Nicki Chopski, PharmD, BCGP, ANP was sitting on the Board of Pharmacy. Now the Executive Director of the aforementioned board, Dr. Chopski took some time out of her day to share her insights on the process of bringing telepharmacy to the state of Idaho, and the impact telepharmacy has on patients and access to healthcare. In this interview, Dr. Chopski speaks only on behalf of her experience with the Idaho Board of Pharmacy.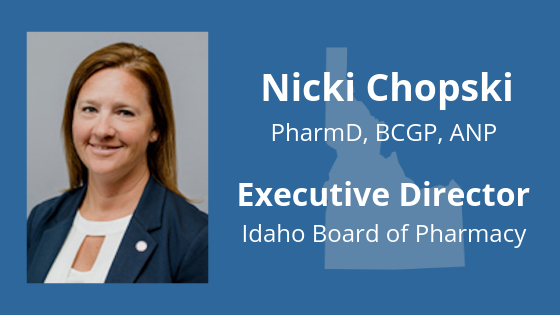 What factors were taken into consideration when the board was exploring the possibility of bringing telepharmacy to the state?
Because it is the mission of the Idaho Board of Pharmacy to protect the health of Idahoans as it relates to the practice of pharmacy, there were two primary factors we looked at: safety and access. We reviewed the data available to us at the time and determined that sufficient safety parameters could be implemented to allow Idahoans access to pharmacists through technology.
Why did the board ultimately bring telepharmacy to Idaho? What was the perceived benefit and hopeful impact?
We ultimately concluded that access to a pharmacist through telepharmacy was a preferred alternative to other options, some of which included no access to a pharmacist without traveling a significant distance, primarily in rural Idaho. We anticipated the practice could be performed safely and the benefit of having a pharmacist available in a community, especially where there was previously none, would ultimately improve the health of Idahoans. The existing literature out there shows there are proven benefits to patients when a pharmacist is involved in their care process. That is ultimately the impact were were hoping it would have, and it has proven to be the case.
What were some of the common objections raised regarding telepharmacy and how did your group address them? Were those concerns valid?
There were three primary concerns raised through the process: the security of the drugs, the safety of patients, and the potential impact on job loss for pharmacists.
To address these concerns, we turned to the available data. We understood there were some limitations to what had been published on the topic, but even taking those shortcomings into account the data indicated telepharmacy could be successfully implemented. To ensure security in telepharmacy, we augmented parameters around controlled substance inventories and audits and insisted on surveillance. We have had no issues with safety for patients, and there have been no significant job losses due to telepharmacy in Idaho since it has been permitted.
You mentioned a common objection was a fear of telepharmacy taking pharmacist jobs. Have you seen this become a reality in Idaho or elsewhere?
Pharmacist job loss due to telepharmacy is not a reality in Idaho that I'm aware of. In fact, there have been some pharmacy owners that put a telepharmacy in place and came to realize there was enough business in a given community to put the pharmacist in the store on certain days of the week and operate as a telepharmacy on the remaining days. Essentially they would share a pharmacist between the small communities, expanding access to multiple communities every day of the week. Telepharmacy really allows the pharmacist to adapt to what their community needs.
We've also seen situations where a telepharmacy service didn't survive in the marketplace where it competed with a traditionally staffed pharmacy. From our vantage point, the market seems to be driven by both technology and customer service. Telepharmacies function best when they meet an unmet need and provide access to people who don't have it.
You also mentioned safety being a concern - how would you describe the overall safety of the practice? What makes it safe/accurate?
We have had no safety issues brought to the board because of the practice of telepharmacy. It is entirely safe because each patient has to counsel with the pharmacist (via HIPAA-compliant telepharmacy software) before they leave the pharmacy. This ensures that pharmacist has the opportunity to review the medication with the patient and answer any questions they may have. The accuracy is built into the process as well because the pharmacist has to review each and every prescription as it is filled, just as they would in a traditional setting.
It would be one thing if the sample size was just one telepharmacy and a short amount of time, but we have ample data now in Idaho alone to support the fact that it has been an entirely safe practice. Telepharmacy has been practiced in Idaho for 5 years, and we have 18 telepharmacies in operation today. In that time span and among that many telepharmacies, we have had zero incident reports for safety.
What has been the overall impact of telepharmacy for the state and communities?
For the state, the impact really has been a sense of overall improved healthcare for the citizens of Idaho. The reason I say that is because when you provide access to a pharmacist, it provides an increased level of healthcare provision to patients. Pharmacists not only dispense prescriptions, but they educate and counsel patients on their regimens and therapies, which is an extremely important part of the process.
On a community level, I know of several examples of restored pharmacy access. One telepharmacy opened in a community which had been without a pharmacy for 60 years, another telepharmacy opened in a community which lost their pharmacy to closure 15 years ago, and another opened in a community which never had a pharmacy before. The feedback from these communities is positive and it gives them a better chance to retain their local practitioners with a pharmacy in town. They say if they can keep pharmacy services in town (by way of telepharmacy), then the clinic will stay open, and they can keep their healthcare local.
It also has an economic impact in these smaller communities because their residents aren't forced to leave town for pharmacy services. The mentality in Idaho is if you have to go to town for an appointment, you might as well check other things off your list while you're there. When people go to the nearest big town for pharmacy services, they may also go to the grocery store, do some shopping, go out to eat, etc. When residents don't have to leave town, they keep more of their business in town and patronize local businesses.
People often think telepharmacy is only useful in rural areas, and thus mileage restrictions should be in place - what are your thoughts on telepharmacy in urban settings?
We initially considered a mileage requirement, but we eventually struck it from our rules as we deliberated on it more. The thing is, regardless of the population of an area, there is always need for pharmacy access. For instance, I'm from Pocatello, which is a relatively big city in Idaho (population just over 55,000), and they don't have a 24 hour pharmacy. That could be an opportunity for someone to enter the marketplace and meet that need with telepharmacy. A mileage restriction would be an unnecessary barrier to providing that type of access.
What would you say to boards that say they don't need telepharmacy in their state?
My first thought is that there is a good chance access to a pharmacist is being denied because of that point of view. It is a bold statement for a board of pharmacy to make given how unlikely it is that they could know every practice setting in every community and the needs of each of those communities. That is what drove a lot of the regulations here in Idaho. We had the mindset that we may not know best what each community needs. By keeping the regulations as flexible as possible we are able to allow the pharmacist to provide the best care to as many patients as possible while keeping safety a top priority.
There are access limitations throughout all states regardless of whether it is a metropolitan or rural area. It is the job of the board of pharmacy to ensure patient safety, but beyond that it should be up to the pharmacists and owners to decide how they can best care for their patients. Ultimately it comes down to this: what is the harm in providing access to a pharmacist where there is a need?
What advice do you have for other boards of pharmacy that are looking into telepharmacy?
With the benefit of the passage of time, looking back at the process Idaho took, the best a state can do is allow pharmacists the flexibility to use technology to best fit the needs of the community they are trying to serve. Boards of pharmacy certainly need to be sure there are guardrails in place to make the process safe, but getting too restrictive out of fear limits the ability for the technology and the pharmacist using it to assist in providing access to trusted healthcare professionals and care to the patient as it relates to their medications.
Telepharmacy is very safe, and access to a pharmacist is important to communities. Patients appreciate being able to reach a pharmacist in their community when they need them. My advice would be to review the data, look to other states where this has been done, and then make the decision to give the pharmacists in your state the flexibility to serve their patients and communities in new ways.
--
A while ago, we had the pleasure of interviewing Jason Reading, owner of Shoshone Pharmacy in Shoshone, Idaho about his experience with telepharmacy. Check out the full interview with Jason here.
You can learn more about telepharmacy regulations in Idaho by checking out this fact sheet.
If you're in a different state and want to learn about telepharmacy regulations across the country, click below to view our interactive map: