Soon the leaves will change from green to amber and pumpkin-spiced everything will be front and center at your local grocery store. All of these changes are a reminder that flu season is near. Do you offer flu-shot vaccines at your pharmacy? Better yet, are you in a location that's convenient for patients?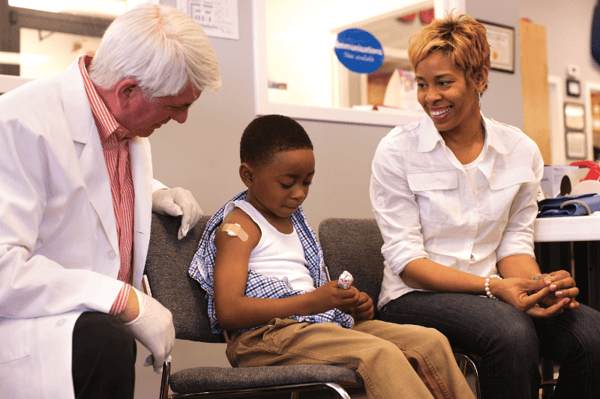 In the first part of our series of articles on the benefits of telepharmacy, we're going to discuss how telepharmacy sites provide a more convenient location for patients to receive their annual vaccinations.
The importance of a flu shot
Not to state the obvious, but flu-shot vaccines are important for both patients and pharmacies. From the patient perspective, seasonal flu-shot vaccines help protect against the influenza viruses that research indicates will be most common during the upcoming season. Flu shots are especially helpful for kids age two and under, senior citizens and people with chronic conditions such as asthma, heart disease or diabetes.
From the pharmacy's perspective, flu shots (and other immunizations):
Have a positive impact on patient health
Offer pharmacy owners another way to generate revenue
Help transform community pharmacies into health and wellness destinations
Flu vaccines: the convenience factor
According to a recent survey conducted by Harris Poll, 59% of U.S. adults get a flu shot every year or plan to get one this year. That equates to more than — let's just say that's a lot of people. 46% of Americans say their entire household gets vaccinated, and 81% of seniors (age 65 and up) get a flu shot every year and/or plan on getting a flu shot this year.
You're probably thinking, "Okay, but what's the point? Yes, of course a large majority of seniors get vaccinated, and surely one could have guessed that around half — or a bit more than half — of Americans get a flu shot every year." But here's the real surprise: did you know how important convenience is when it comes to getting a flu shot?
Survey says...
More than one-third (34%) of U.S. adults who have ever received the flu shot determine where to get vaccinated based on convenience. - Harris Poll Online Survey
Telepharmacies — whether in rural communities or deep in the heart of the city — can provide an incredibly convenient location for adults and children alike to receive flu-shot vaccinations. While a pharmacist isn't always on-site at a telepharmacy location, pharmacy owners and pharmacists can work together to plan specific vaccination days ahead of time so patients know when they can drop by to get vaccinated without an appointment (unlike a doctor's office). The same goes for other vaccines and immunizations such as shingles, pneumococcal, Hepatitis B. MMR, DTP and more.

In addition to opening convenient locations, telepharmacy — a cost-effective alternative to opening a new traditional pharmacy — allows you to open more total sites, which equates to more access points for patients. More access points leads to administering more flu-shot vaccinations and capturing more total prescriptions.
The services that a conveniently located telepharmacy provide can have a great impact on population health. Remember, offering more convenient flu-shot vaccine locations is just one of the benefits of telepharmacy — and convenience matters. Read our next article by clicking below!