Today marks the first-ever Women Pharmacist Day! We sat down with pharmacist Cindi Reed, owner of Oakwood Apothecary and Dick's Pharmacy, to learn about her unique journey into pharmacy ownership and how she remains competitive in an ever-changing industry.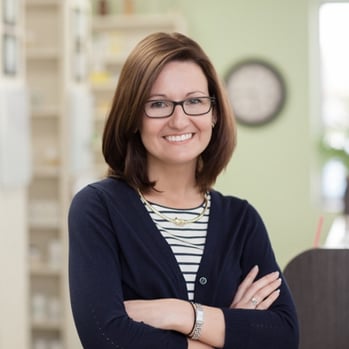 What inspired you to become a pharmacist and own your own pharmacy?
"When I was 2 years old I was diagnosed with epilepsy on Christmas Eve. By the time I was in 1st grade I was taking 9 medications each day to manage my diagnosis, but I was still experiencing daily seizures. I had visited doctors and specialists but they couldn't figure out the cause. My doctors told my parents that I might have a brain tumor, which is a scary thing for a parent to hear. Thankfully the MRI came back clear and after that our local pharmacist speculated that the medications I was on were actually causing the number of seizures. He recommended to my doctor that I discontinue certain medications and, as a result, I became seizure free for 4 years.
Because of that experience, I saw a breakdown in the system and realized the value that a pharmacist can provide. That's when I knew I wanted to go into healthcare. After pharmacy school our local pharmacy closed its doors. It's the beginning of the end when one small business closes. I didn't want to see my hometown start to die off so I decided to open my own pharmacy in Sullivan."
Why did you decide on telepharmacy?
"A couple years after I opened Oakwood Apothecary, a pharmacy the next town over came up for sale, so I bought it! Things don't always go as planned and soon after I had a few staffing hurdles that came up and had to find a way to fill pharmacist hours. Unfortunately, the stress sent my brain into overdrive and I started having seizures about every 3 weeks. I searched around for different options to fill the gap in staffing and to provide coverage on the days that I needed to be out. I came across telepharmacy and converted Oakwood Apothecary to a telepharmacy 3 days a week and every other Saturday.
Before telepharmacy, it was hard to take a day off and I sometimes had to close the store because I wasn't able to make it in. Telepharmacy has changed my life for the better. I don't know how I would have gotten through the past year and a half if I hadn't found that. I still have the same level of oversight in the pharmacy and it's safe for my patients. My technicians are given additional responsibility with the telepharmacy and they are empowered to run the pharmacy whether I am physically there or not."
As an independent pharmacy owner, how are you able to compete?
"The pharmacy I opened in Sullivan was actually right across the street from CVS. I knew that would be a challenge, but I have been able to compete because I offer a hometown feeling. Sullivan is a small town and everyone in town knows my family. I was able to build a good reputation and customers come to my store for a more customer-focused experience. I accept all insurance plans and the pharmacy counter is 12 steps from the front door so my customers are able to run in quickly to get their prescriptions and know that they will be taken care of. I try to be intentional in creating a service that is not out-of-the-box like Amazon by creating a stronger bond between the pharmacy team and our patients.
I always had a strong support system with my parents. My dad is an entrepreneur and my mom has always been a strong example of how to push forward in life despite the circumstances. My grandmother didn't have a lot, but she raised four kids, never complained and did well with what she had. In a lot of ways I am driven not to fail. No matter what circumstances I'm going through I have customers that I don't want to let down."
Did you know?

The pharmacy name, Oakwood Apothecary, is a nod to Cindi's grandmother, Ann Oakwood.

What role do you think innovation and technology play in the industry?
"Technology is going to allow us to move from dispensing-based profits to a more clinical-based model. I don't want to replace people with a robot, but if there is a technology that can free up the time of the pharmacist or technician from counting pills and menial tasks, we could become more patient focused. That's where we are moving. I would much rather have my team focused on providing education and helping patients, like the pharmacist did for me when I was a child to help determine the main cause of my seizures, rather than filling prescriptions which is what pharmacies currently get paid for. "
What is a misconception you had about telepharmacy prior to opening your own telepharmacy?
"I was initially concerned about my patients accepting telepharmacy, especially being located right across the street from CVS who has a pharmacist on site all day. The technicians have done such a great job taking care of the customers that there hasn't been a gap in care. If your customer service is at 150%, as it should be, it will make no difference if a pharmacist is in the building or not. I set those expectations up front with my technicians and make sure that they are just as committed to the customers as I am."