Today is National Pharmacy Technician Day, and to celebrate, we asked pharmacists and colleagues to write in and tell us what makes their technicians great. Below are the beautiful tributes we collected to these beloved, hard-working, extremely vital pharmacy technicians.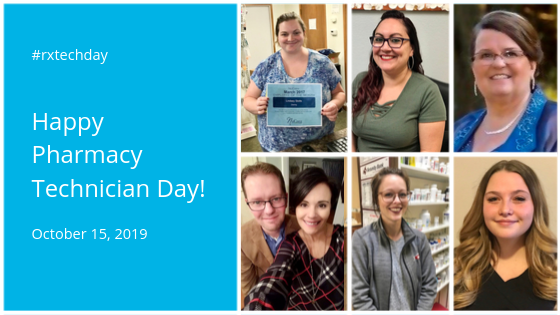 You can see from the entries below just how important pharmacy technicians are to their pharmacists, the pharmacy's operations, and the patients they serve.
Joel Poorbaugh, CPhT
"Joel is seriously the best tech ever! He never misses work and shows up 30 minutes before his shift. He is smart, dependable and his people skills are amazing. He goes above and beyond to take care of our customers."
Tristen Lehnoff, CPhT, Green River Pharmacy
"I am nominating Tristen because she has taken her role as the Green River Pharmacy's Technician very seriously. She does everything that she is asked and goes above and beyond to make sure that her patients are taken care of. Even though she has only been a technician for a short time she is always looking for ways to improve. If she doesn't know the answers she is always willing to find out by asking the hard questions if she needs to. She is dedicated and a hard worker and we are very lucky to have her as a technician and friend."
Ashley Garcia, CPhT, Shoshone Pharmacy
"Ashley is always thinking of others and is always willing to go the extra to provide the best care for our patients! Everyone in the small community of Shoshone, ID absolutely love Ashley! She goes above and beyond for the community! she most definitely deserves to be recognized for this!! please please recognize her for this!!"
"She was able to start up and run the pharmacy, most days by herself, successfully. She has made a connection with the patients in the area, which helps improve patient care. She also helps keep her coworkers motivated throughout the day with her peppy attitude. She prides herself in keeping the pharmacy in ship-shape while keeping her patients safe and happy."
Lindsey Stotts, CPhT, NuCara Pharmacy
"Lindsey runs the Zearing Telepharmacy with epic efficiency, establishes outstanding rapport with her patients, maintains a strong relationship with the clinic next door, and provides pharmacy services in an area that would otherwise be under-served. Legend has it, she also walks little old ladies across the street, saves cats from trees before the fire department can even be called, and once even beat Chuck Norris in arm wrestling while eating a grilled cheese sandwich."
"Lindsey is a constant positive light in a stressful environment. Her patients adore her and she always goes above and beyond to help them. She has a very close working relationship with the local healthcare team, and together they provide amazing care to her patients. Regardless of the situation, Lindsey always keeps a positive attitude and a compassionate demeanor and it definitely shows through in all of her work. As a pharmacist I couldn't do the work I do without her."
Sarah Jess, CPhT, SSM Health West Pharmacy
"Sarah is always helping everyone, including patients & new technicians. I am a new technician, & she has helped me a lot in the past couple months, I learn something new from her almost everyday! She does everything in her power to help get a PA to go through, always following up with both patients & doctors. She deserves recognition for all of her hard work!!"
Sonia Fonseca, CPhT, Genoa Pharmacy
"Sonia is a super tech with flexible capabilities she goes above and beyond and helps me out a great deal, a true rockstar!!!"
Matt Rosen, CPhT, Westminster Pharmacy
"All of the residents at our facility love Matt, and our team does too! He does a great job of communicating with the doctors' offices to ensure that patients get their medications in a timely manner. He's extremely organized and always willing to help wherever needed!"
Carolyn Schumacher, CPhT
"Carol always puts customer service and care at the top of her priority list. As a remote dispensing technician she takes on and excels at responsibilities beyond what most technicians do. She is proactive in helping customers find the most cost effective and productive treatments and helps in patient compliance by being a huge proponent of comprehensive medication reviews, identifying patients who need the service most and contacting pharmacists to follow up. She has successfully run the discharge program at the hospital helping patients who are unable to make it to the pharmacy receive their medications. She alerts her supervisors of issues immediately and always has suggestions on improving procedure and workflow."
Austin Hook, CPhT
"Austin has become a Telepharm speed machine. He has also become a master and teacher to other techs on Telepharmacy workflow. He along with another tech helped to start our first Telepharmacy. With super patient care and hard work he helped build our Garden Valley Medicap 8427 Telepharmacy. We could not have done that without him and I mean it from the bottom of my heart. We will use him to start the next one."
Kellie Reitz, CPhT
"Kellie has been a trooper. Starting new workflow is not always easy, but she accepted the change with a positive attitude. Learned the system quickly and I have heard her say that she likes the workflow better and that we have made less errors since we have to the new Telepharm workflow. On top of it all, She connects so well with people and our patients. She has been on the frontline as we changed our rural Medicap 8391 pharmacy to Telepharm. She has been outstanding."
Lori Wallace, CPhT
"Lori has always been an excellent technician. Smart fast and hardworking. She is largely self taught about all the ins and outs of insurance billing. She has been promoted to process Medicare and durable goods billing for all of the Seip Drug stores. Pharmacist and technicians are always calling her for difficult billing situations. There have been rare occasions where Medicare has called her for her advice. She is an invaluable asset to our company. She also does diabetic shoes for some customers for more than a decade."
Molly Shoup, CPhT
"This technician is highly versatile in her role. She is an expert in all things that a technician needs to know to do their daily job but her usual patient population is much more challenging. She is in an administrative role, though she sometimes fills in at the front line. Her position at this time involves supporting all of our locations. We are her daily patient population and we are not easy customers. She manages all of our technology problems that fall outside our IT team, she handles billing issues, instructs us on the how to for many, many things. She is a liaison at times between our team and Telepharm and our POS service, and so many more collaborators that we need to interface with to run our business. She fields our requests, our complaints, deals with our frustrations and manages to maintain a professional working relationship with a lot of different individuals. Our team could truly not function without her expertise, patience, and deep knowledge on how everything works. In an age of increasing challenges and frustrations, she takes care of so many things for us that it is hard to envision that we could still experience our current level of success without her. I am pleased to nominate our invaluable, behind-the-scenes technician Molly Shoup for recognition this year on National Pharmacy Technician Day!"
Kirbi Gall, CPhT, Steffen Drug and Pierce Pharmacy
"Kirbi has gone above and beyond the call of duty from the moment she walked through the door. We have been so fortunate to have her as part of our pharmacy team and family. When we opened the Pierce Pharmacy (telepharmacy), she was ready and willing to take a leap of faith and get the pharmacy off and running. She handles each patient on a personal level and makes them feel that they are always welcome in the pharmacy. As a coworker, she is able to look outside of the box and tackle projects that may not be in her job description."
Brenda Johnson, CPhT, Pharmacy Plus Barry
"Well educated, thoughtful, great with customers, great teacher and role model!"
Christina Lopez, CPhT, Sun Life Family Health Center
"Christina has worked at a non-profit health center for over 21 years. She not only lives in the community but has served it these many years. She has taken a very active role in mentoring and training new pharmacy technicians and helping the Health Center thrive in an under-served, rural community. Christina has a compassionate heart for both patients and co-workers and is always looking for ways to better serve her patients and the community."
Thanks to all the nominators, and thank you to all of these amazing pharmacy technicians who work hard and go above and beyond to contribute to their pharmacies and communities! Happy Pharmacy Technician Day!