"In terms of being a pharmacy owner, telepharmacy is like a dream come true," said Dave Falk, owner of Sav Mor Pharmacy.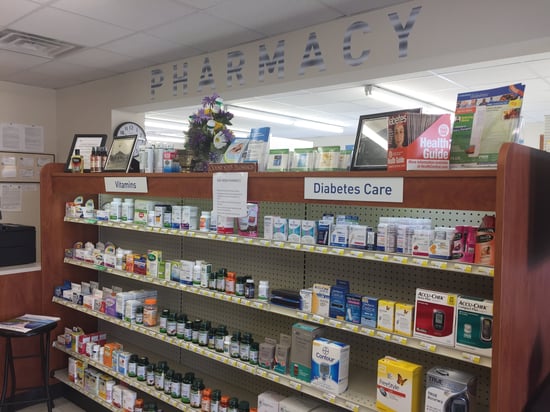 Sav-Mor telepharmacy located in Atwood, Illinois.
With fifteen locations spread across Illinois, Sav Mor Pharmacy brands itself as a hometown pharmacy with world-class service. They serve mostly rural communities and are scheduled to open their third telepharmacy by the end of the year. They are currently under construction with their fourth and fifth remote-dispensing sites — both of which are scheduled to open in early 2017.
We sat down with Dave to discuss how to grow your pharmacy, his experience with TelePharm and the most appealing aspect of telepharmacy.
Q: What attracted you to pharmacy?
"Pharmacy is about all I've ever done. My family owned a pharmacy and since I enjoyed it so much I bought the business in '99. I started acquiring and opening new stores ever since then. My wife Angela is a pharmacist at one of our locations. It's really all I've ever known."
Q: What is the most appealing aspect of telepharmacy?
"I would say the ability to serve more patients and add prescription volume with minimal risk of exposure. Being someone who has opened stores from scratch rather than acquiring them, I've seen some hard days. You're not exposed to that risk with remote dispensing. It's great because you're not exposed to that overhead. The biggest expense to opening a new traditional pharmacy is eating those losses for the first two to three years. Telepharmacy is different. The break-even point is much, much sooner and the cost to dispense is much lower.
From a clinical standpoint, I would probably say the access. We hear a lot from our customers and they are all extremely happy to have us in town. Whether it's inclement weather or you're just having a bad day, traveling 30+ miles roundtrip to a pharmacy is a long distance for some patients. Sav Mor Pharmacy is here to help prevent that."
Q: What did your pharmacists think about telepharmacy?
"At first our pharmacists were hesitant. They said, "You're just going to eliminate my position." We're not going to eliminate your position, we're going to solidify your position. They thought they were going to lose their jobs but then they realized we are guaranteeing their jobs by supplementing prescriptions and new patients. We haven't parted ways with a pharmacist and I don't see that ever happening. If anything, we're going to hire more pharmacists. Also, we've promoted from within and two of our Certified Pharmacy Technicians are now managers. Jennifer in Atwood and Mindy in Louisville have taken ownership of their respective telepharmacy and performed far beyond our expectations."
Angela Falk, Dave's wife, is a pharmacist at Sav Mor Pharmacy. Read her thoughts on telepharmacy here:
Q: Did you look at any other telepharmacy solutions?
"We looked at other remote dispensing systems and also explored setting up our own. But we felt more comfortable having someone on the other side of the coin doing it all for us. Other systems were extremely expensive, just too cumbersome. With TelePharm, the support is great and everyone has been fantastic from sales to installation and launch."
"In terms of being a pharmacy owner, telepharmacy is like a dream come true."



- Dave Falk, Owner, Sav Mor Pharmacy
Q: Let's talk growing your pharmacy business. Can you tell us about your future plans?
"We've had hospitals and clinics come to us, which creates new opportunities where they want us to have a pharmacy presence inside their hospitals and/ or clinics. We opened our Atwood location at a small, one-provider clinic that's been there for years. That led to a 340B contract in a hospital and also led to another location we're building out. The health system recognized that when a pharmacy is near the clinic does better. They saw a 25% bump in business because the pharmacy is there, so they invited us to be inside their new clinic. People are excited because they are getting a new doctor, and every day of the week there will be a different provider there. On top of all of that, there will be a pharmacy. How great is that? You get on their social media page and everyone is asking the same question: "When is the clinic and the pharmacy going to be open?" It's great!"
Q: Can you share any details on the financials of telepharmacy from a pharmacy owner's perspective?
"In terms of being a pharmacy owner, telepharmacy is like a dream come true. Our locations are doing great. Our most popular remote dispensing location saw 90+ prescriptions go through recently and that's one of the best days we've ever had. Almost all of our new prescriptions are coming from chains, too. That's great to see.
Talking about that same location, if you take the sales minus expenses and the cost of goods sold, we were profitable in the 2nd month of operation. Six months later we were completely profitable, including covering the expenses of remodeling and updating fixtures in the building. As a pharmacy owner when you compare telepharmacy to traditional pharmacy, it's a no-brainer. The business model is fantastic."
Q: It sounds like retail telepharmacy is a great way to combat declining reimbursements, too?
"Here's the thing: we have no control in terms of reimbursements on 98% of what we sell. You can't raise prices, your operating expenses continually increase, and as a small business owner, we have healthcare expenses, too. So costs keep going up and reimbursements continue to fall. The only thing you can do is 1. lower your cost of goods, and/ or 2. lower your cost to dispense. The telepharmacy model lowers the cost to dispense drastically and makes it feasible in smaller communities, allowing us to provide critical pharmacy access to patients living in rural areas."
Thanks for reading. Please don't hesitate to contact us if you have any questions.