Safe. Secure. Cost-effective. If those terms are at the top of your list when reviewing outpatient pharmacy solutions, keep reading.
Today's hospitals and health systems need modern, flexible pharmacy services that help deliver the expert care patients expect. Health system pharmacists and pharmacies are in a unique position because they play a major role in improving medication adherence, reducing hospital readmissions related to medication and improving patient outcomes — all of which are central to health reform's reimbursement program.
Health systems are starting to see the benefits of inpatient telepharmacy, but we're only at the tip of the iceberg in terms of what's possible with outpatient telepharmacy.
Here are five reasons why retail or outpatient telepharmacy makes sense for hospitals and health systems.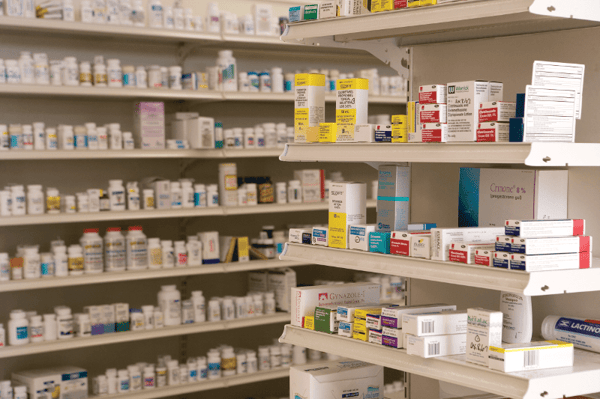 1. Help improve medication adherence
It's been reported that only 50% - 70% of prescriptions are filled. It's also been reported that 95% of patients fill their initial prescriptions when offered the ability to do so at the point of care. Meds to beds services work, and convenient and cost-effective outpatient telepharmacies can help increase first-fill adherence by enabling patients to walk out the door with discharge medications in-hand. It also provides a point of contact for a pharmacist to properly educate patients on their medication as a means to positively impact adherence rates. Furthermore, improving medication adherence can help prevent medication-related hospital readmissions.
Did you know that out of 100 prescriptions, on average only 70 arrive at the pharmacy and only 30 are taken properly.

Source: IMS Health Data, March 2011
2. Create opportunities to generate more revenue with minimal investment
Expanding your outpatient pharmacy business through telepharmacy — whether in hospitals, clinics or as standalone retail sites — can help generate more revenue and drive growth. The collaborative staffing model allows healthcare organizations to share resources across the enterprise and serve more patients cost-effectively. One of the main reasons outpatient telepharmacy makes sense is that it costs less to operate than a traditional pharmacy, and lower investment means lower risk. Retail telepharmacy can also lead to a quicker break-even point.
In the following article, Fred Pane, Senior Director of National Accounts and Health System Engagement at The Medicines Company, said "A winning strategy for any hospital system looking to cash in on pharmacy is comprised of two steps: Capture as many prescriptions on discharge as possible and generate revenue based on those prescriptions." More and more health systems are viewing their pharmacy as an active generator of revenue. Also, if trends in healthcare reimbursement continue, cost-effective pharmacy solutions, such as telepharmacy, will play an integral role in the delivery of safe pharmacy care within the healthcare organizations.
Interested in more information? Download our introductory guide to outpatient telepharmacy for health systems.
3. Improve the patient experience
Outpatient telepharmacies are a convenient way for patients to fill their prescriptions when located inside hospitals or clinics. TelePharm's software requires that the pharmacist counsels the patient before any prescriptions are dispensed. This gives pharmacists access to patients before they leave the point of care, and pharmacist-led patient education can help reduce medication-related readmissions and improve health outcomes. Additionally, offering timely and efficient centralized refill services helps contribute to a better overall experience for patients.
Outpatient telepharmacy can also help healthcare organizations manage population health by integrating pharmacists into outpatient care teams.
4. Provide access to specialists
Participating in retail telepharmacy enables health systems to gain experience buying and billing for outpatient drugs and managing complex chronic disease patients in the outpatient setting. Health-system pharmacies can use live-and-interactive video counseling technology to connect their specialists to patients throughout the network. Do you have a patient seeking diabetes counseling in a clinic but don't have a specialist on-site? Connect the patient to your diabetic specialist via remote counseling technology to help the patient in need. Have an HIV specialist on staff? Maximize your resources and connect that specialist to every hospital, clinic and outpatient pharmacy in your network through live-video counseling.
5. Improve continuity of care
According to a Johns Hopkins University study, poor continuity of care results in the overuse of unnecessary procedures and diagnostics and costs the U.S. billions each year. If the goal of integrating patient medical information across all providers and settings is better health outcomes, retail remote dispensing can help you get there. Outpatient telepharmacy can start to close the patient-care loop by ensuring a smooth flow of information between providers and settings, enabling specialists to provide remote discharge counseling at the bedside and delivering convenient pharmaceutical care remotely when necessary. Including pharmacists as part of the patient-care team will reap dividends far beyond capturing more prescriptions.
Hospitals are judged on adherence, readmissions and overall patient satisfaction. Outpatient telepharmacy is a cost-effective tool health systems can use to improve the overall healthcare experience.
Thank you for reading. Please contact us for more information or sign up for our weekly newsletter.