"The first time I heard about telepharmacy I thought it was crazy," said Ashok Pothula, laughing out loud. "Now we're live with three remote-dispensing locations in New Mexico and we have four more in the pipeline."
"Ash" is a pharmacist and Pharmacy Manager at
BestCare Pharmacy
in Albuquerque, NM. In the past year they've opened a trio of telepharmacies scattered throughout rural New Mexico as a way to serve more patients located in remote areas of the state, as well as grow their operation.

We spoke with Ash about why his organization choose telepharmacy, how they are better serving patients in small communities and what an example of telepharmacy success looks like.

What did you think when your first heard about telepharmacy?
"The first time I heard about telepharmacy I thought it was crazy," Ash said, laughing. "I initially thought it was something that's going to take my job, so I didn't like it. Then my partner brought it to my attention, I learned more about it and we drove to what is now our first telepharmacy location, Angel Fire, NM. That's where we started the journey and we've got great feedback from the towns we're servicing. It makes sense when you look at how many people were suffering without access to medications and prescriptions. The impact of what we're bringing to the town is great. We asked one town to write a recommendation letter for us to use and they said we made a very big difference in their lives."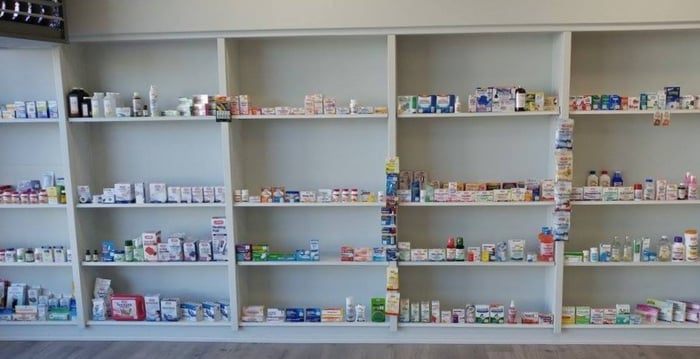 OTC medication at Springer BestCare Telepharmacy located in Springer, New Mexico
What changed your mind? And why is telepharmacy right your organization?
"We are trying to grow in New Mexico, but for us to get a pharmacist in really remote locations is very hard. That presents a big challenge. There is just not a big population in remote areas. Pharmacists are serving folks in metros but not in rural locations — they don't want to move out to rural areas. I have been in small towns where I was shocked looking at these towns. They are really small! We're talking 1200 or so people and they may have a grocery store. The thing is that people who live in small towns don't want to live in big cities and vice versa. For us, providing access in small rural communities has made a big impact. There is a lot of opportunity with telepharmacy and I think it will make a lot of people's lives better."
"There is a lot of opportunity with telepharmacy and I think it will make a lot of people's lives better."



- Ashok Pothula, Pharmacist, BestCare Pharmacy Manager
"Also, I am getting calls from a lot of rural communities now. I have appointments lined up in some towns. I want to look at them and look at their size and see if we can work it out. We have opened three telepharmacy locations so far and we're looking at opening more. For example, Angel Fire, NM is a tourist attraction — it's a ski town, but it's off the beaten path. All of the towns we are in or are looking at are like 30-40 miles away from the nearest pharmacy. Small towns drive to other small towns for work. Word travels fast. Now they know there is a pharmacy open in Springer, Angel Fire and Questa (New Mexico)."
What's the best part of the telepharmacy software?
"There are a lot of companies who do telepharmacy, but the problem is that the pharmacist and the technician have to be on the same screen at the same time looking at a prescription — it's a live-video link. The best part about TelePharm is the queue-based system. If there is a patient at the telepharmacy then there is no way I can take care of the patient in front of me. I have to wait, check the live-video feed and then take care of the patient in front of me. I admit that I haven't tried many, but I think your product is a lot better than the others. I haven't had any hiccups. Sure, there is room for improvement but the backbone of the software is very good."
What do technicians and pharmacists think about it?
"We use only the best technicians. I cherry pick them. In a telepharmacy the pharmacy technician has an advanced role, as they play a bigger part in dispensing medication. We pay them a premium compared to what they normally get at a chain store."
"I work in one of our traditional pharmacy locations, so from the perspective of a pharmacist the workflow is pretty good. I am currently reviewing prescriptions for most of the locations myself. We will eventually have our managing pharmacy hooked up to six telepharmacies. We will need to hire pharmacists eventually and I may not be working down the line because I'm doing more management activities lately. I'm getting these telepharmacies up and running and then once the operations get smoothed out I'll hand it over."
Interested in an example of how telepharmacy actually works? Watch our video!
What do you think is the real benefit of telepharmacy?
"Certainly you have cost savings because with lower populations there is no way they can support a pharmacist on-site there — you just can't crunch the numbers to make it work. You can't generate enough income to support that population, whether it's 1200 or 1500 people. Telepharmacy is perfect for that. And in terms of pharmacy access, it's hard to beat. It's simply better access to the pharmacy. The third thing is compliance, which is a big issue. Most of these small towns used to drive 30-40 miles for a pharmacy, and a lot of people who live in small towns skip their medications because they can't actually afford gas to even drive and pick them up. We can help prevent that." Read more about the real ROI of telepharmacy.
Thanks for reading! Are you interested in more examples of telepharmacy success? Watch our success story videos!