October is American Pharmacist Month, so throughout the month, we're going to be highlighting pharmacists who have been nominated by their peers for their outstanding commitment to serving their patients and communities.
Pharmacists play a vital role in patient care, as they are the most commonly-visited healthcare professionals, and they are often active and supportive members of the communities in which they live and work. We wanted to take the opportunity to recognize pharmacists who have dedicated their lives and careers to serving their communities and patients - so we reached out to our network of pharmacies to accept nominations from those who work alongside pharmacists every day.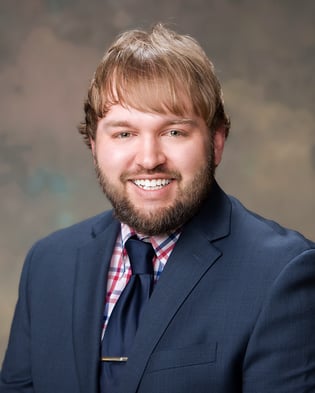 Alex Otte, RPh
Alex Otte, of Ascension Pharmacy in Wausau, WI has been a pharmacist for over two years, and was nominated by Rebecca, the Lead Technician under his supervision.
"Alex is a leader that looks for opportunities to ensure our customers, his staff members, and other associates have the best experience possible. He is new to this leadership position and has made great strides in customer service and training and has implemented checks and balances for the safety of our customers. Alex always has a great outlook on any situation which shows in our customer's satisfaction on a daily basis. People enjoy talking to him as he takes the time to listen. His community is far reached as he also manages three remote dispensing sites (telepharmacies), but he always makes himself available. Our stores have numerous programs for individuals that cannot afford their medications or do not have insurance. Alex continuously works with providers to ensure the customer can afford or receive their medication(s) necessary for their health. This helps improve the community as care teams reach out to us to see how/if we can help a customer even if it's not within our local areas. Technology is always changing and Alex is able to adapt and modify new processes to expand our services as can be seen using TelePharm for our remote dispensing sites."
Ben Brunner of B&B Pharmacy and B&B Drug is actually the only pharmacist this month who received multiple nominations, so he must be doing something right! Ben has been a pharmacist for 11 years, and he was nominated by Tracy du Plessis, a pharmacy technician at his 2nd store B&B Drug, and Kaitlyn, another employee of his.
Here is what Tracy had to say about Ben:
"The patient/customer always comes first and Ben goes beyond what is required to try to accommodate everyone's prescription needs. Whether it is to find a less expensive alternative for a prescription, make a house call to give a flu shot, or call other pharmacies to locate a drug that he does not have in stock so that the patient does not go without. He reaches out to the patient if he has concerns and is always working! Ben is very smart and just an all around great pharmacist who is always trying to improve on his already vast knowledge of medicine and patient health. He doesn't go to work just to get the day over with, he truly loves what he does and cares for all of his patients. His ambition rubs off on his employees and we tend to follow suit!"
Kaitlyn:
"Ben is a wonderful pharmacist. He serves his community with pride. He also does everything in his power to make sure our customers get exactly what they need. Ben has adopted new technology such as our RX app that allows our customers to order their prescriptions at their convenience. He also opened up his first telepharmacy in Akron, CO to serve others that were in need of a pharmacy closer to home. Ben has put in many long hours in order to have two stores open to serve not one, but two communities. He deserves a chance to be recognized."
Molly Hull is a pharmacist at Soldotna Professional Pharmacy, and has been a pharmacist for 29 years now. She was nominated by David, a colleague of hers.
"I have worked with Molly for 5 years now and have witnessed her go above and beyond for her patients and community daily. She has worked in this community for over 20 years and is very involved. She is always supporting local organizations such as boys and girls club, local sports teams, rotary club, chamber of commerce, and other organizations. She treats all of her patients with the same support and care and goes above and beyond to show her empathy and lend a helping hand. She never seeks praise for herself and carries herself in a very humble manner and for that reason I sincerely recommend Molly for this recognition."
Kevin White was nominated by Austin Hook, a colleague of his at Medicap Pharmacy, where Kevin has been a pharmacist for "a long time," according to Hook.
"Kevin is a young pharmacist with 2 kids that goes above and beyond for our customers. He always stays late working on things for the pharmacy and patients."
We appreciate these friends, co-workers, and employees for submitting glowing nominations. Congratulations to these pharmacists for being recognized in our American Pharmacist Month highlight series, and we thank you for the service and care that each of you provide to your patients and those who work with you.
Check in next week for the next group of pharmacists who will be highlighted!