October is American Pharmacist Month, so throughout the month, we're going to be highlighting pharmacists who have been nominated by their peers for their outstanding commitment to serving their patients and communities.
Pharmacists play a vital role in patient care, as they are the most commonly-visited healthcare professionals, and they are often active and supportive members of the communities in which they live and work. We wanted to take the opportunity to recognize pharmacists who have dedicated their lives and careers to serving their communities and patients - so we reached out to our network of pharmacies to accept nominations from those who work alongside pharmacists every day.
Pharmacist Riham Elziem, who has been a pharmacist for two years at Careplus Discount Pharmacy, was nominated by her pharmacy manager, Hansal Patel.
"Riham is a great Pharmacist. She always goes the extra mile with patients. Every time she meets with patients, she makes sure they are compliant with all the medication, ensures the medication is working for them, and takes the time to adjust doses or formularies when needed. She always calls patients to remind them about refills and ask about their health and blood sugar level, always taking the extra time to make sure they are cared for and healthy."
Amy Lewis of SavMor Pharmacy has been a pharmacist for just two years as well, but clearly has impressed her co-worker and nominator, Katilyn Nihiser.
"Amy always goes above and beyond for her patients. She takes time to talk to them and explain things whenever it's needed. She always greets everyone with a smile and has a great attitude. She is hard working and always willing to learn new things. She is a relatively new pharmacist but she has a great future ahead of her!"
A pharmacist of five years, Samuel Robison, was nominated by Julie Lucero. They are co-workers at ABQ Best Care Pharmacy in Albuquerque, New Mexico.
"Samuel is always willing to help our customers. He goes above and beyond, and he always takes time out of his day to look up info for patients in need. I work in our satellite pharmacy (telepharmacy) location, and he always answers the video calls from the host location when patients need to get ahold of him. He shows the patient kind and compassionate care every time."
Our first combo nomination! Mazen Seddick and Hanna Iazzo are pharmacists Hayat Pharmacy, located in Milwaukee, Wisconsin. They were nominated by Becky Siehr, a technician who works in one of the telepharmacy locations that they oversee.
"Mazen and Hanna both work at a very busy inner city pharmacy in Milwaukee where they have translators that speak over 15 languages. They not only give the best customer service and expertise to all of the patients at their location, they are tele-pharmacists for my location as well!"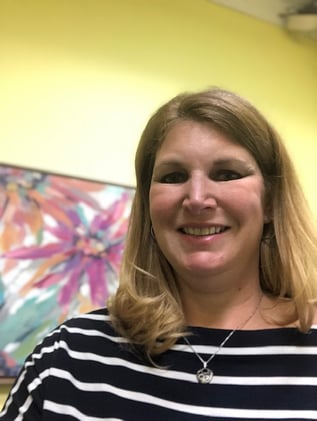 Michelle Dwyer
Michelle Dyer, of Michelle's Pharmacy, has been a pharmacist for 20 years, and operates three Michelle's Pharmacy locations. One of them is a telepharmacy location in Bunker Hill, IL. She was nominated by her employee, Clinton Mansholt.
"She's actively taken on the pharmacy benefit managers that are trying to squeeze the small rural community pharmacies, and make residents of small communities have to drive over 20 miles to get to a pharmacy to get medications filled. Her commitment to the local community is exemplary."
We appreciate these friends, co-workers, and employees for submitting glowing nominations. Congratulations to these pharmacists for being recognized in our American Pharmacist Month highlight series, and we thank you for the service and care that each of you provide to your patients and those who work with you.
Check in next week for the next group of pharmacists who will be highlighted!