October is American Pharmacist Month, so throughout the month, we're going to be highlighting pharmacists who have been nominated by their peers for their outstanding commitment to serving their patients and communities.
Pharmacists play a vital role in patient care, as they are the most commonly-visited healthcare professionals, and they are often active and supportive members of the communities in which they live and work. We wanted to take the opportunity to recognize pharmacists who have dedicated their lives and careers to serving their communities and patients - so we reached out to our network of pharmacies to accept nominations from those who work alongside pharmacists every day.
This week we'll start by recognizing Kristina Johnson, Robert Boulier, Brad Wood, and Becky Spensley. Read on to see what their nominators had to say about each of them.
Kristina Johnson, who is a pharmacist at Valparaiso Genoa Healthcare and has been a pharmacist for over 10 years, was nominated by a technician who works with her.
"She is not only the leader, but a team player. She knows her patients. Not just their name, but their medications. I feel like she's always a step ahead. She's always calm, cool, and collected."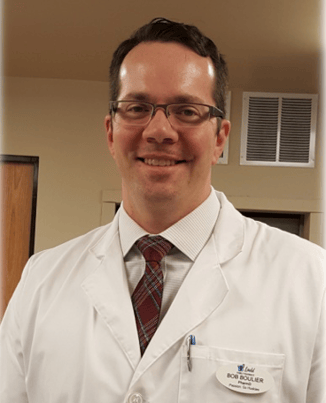 Robert Boulier, RPh
Robert Boulier is a pharmacist at Sav-On Pharmacy, and has been a pharmacist for over 10 years as well. He was nominated by a technician who used to work with him.
"I had the pleasure to work with Robert at two different pharmacy locations. First I worked with him at Mountain Home Air Force Base. He was the commanding officer in the pharmacy, as well as my PIC. Not only was he serving his country, he helped to organize events with charities in the community, for example the Airman's Attic, and events held on the base for the public, such as the Air Show held every three years or so. In doing so he allowed all personnel in the pharmacy to step in and volunteer as well. He supported the technicians in training and promoted performance recognition when appropriate. Several years later I had the honor to work with him again as PIC at Ladd Family Pharmacy. He implemented a smoother workflow and organized the pharmacy in a more efficient manner. Whenever there was an issue with a patient or a computer he was right there to fix it or help in any way he could. Robert always did it with a smile and a quick joke. Even when I messed up, he had a way of working through it with me and making it a learning experience and not a punishable offense, when appropriate. He is slow to anger and fair in his decisions. It was an honor to have worked with him. I wish him luck at his new pharmacy."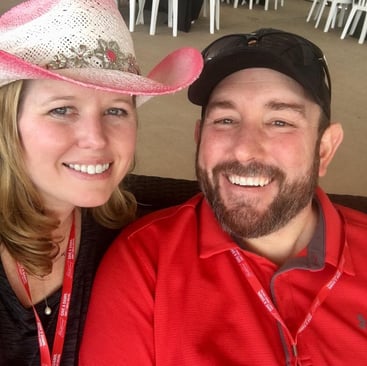 Brad Wood, RPh and his wife
Brad Wood, RPH serves as a pharmacist at a Genoa Healthcare Pharmacy location, and was nominated by Manny Carlos, a pharmacy technician and friend of his.
"As a rural pharmacist, Brad has demonstrated a caring and compassionate relationship with each one of our patients. He deals with all their medical and healthcare needs, gets their prescriptions on time, and makes sure they are compliant with their medications to avoid any hospital admissions. Brad goes over and above to make sure each patient is aware of their medications and ensure sure they take their medications as required in order to keep them healthy and medically compliant each month. Brad not only takes care of the patients in Silver City but also helps to oversee a telepharmacy location in Lordsburg, NM and ensures all our patient communities are safe and healthy. He is very involved in the communities in both Silver City and Lordsburg, and takes time to get to know so many patients and their families, which enables him to make sure they are getting the best care and service in the greater Southwest part of New Mexico. In making sure all our area patients are safe and healthy, Brad has committed himself to not only servicing our communities but also neighboring communities and the surrounding smaller rural communities, getting them their medications via mail or courier service to make sure they all live a long, happy, and healthy life."
Becky Spensley was nominated by Jean Ottens, a technician who works with her at Northside Rexall Pharmacy.
"Becky is always sweet and patient, even when swamped with her pharmacy and our telepharmacy. She's loved by patients and those that work with and under her."
We appreciate these friends, co-workers, and employees for submitting glowing nominations. Congratulations to these pharmacists for being recognized in our American Pharmacist Month highlight series, and we thank you for the service and care that each of you provide to your patients and those who work with you.
Check in next week for the next group of pharmacists who will be highlighted!