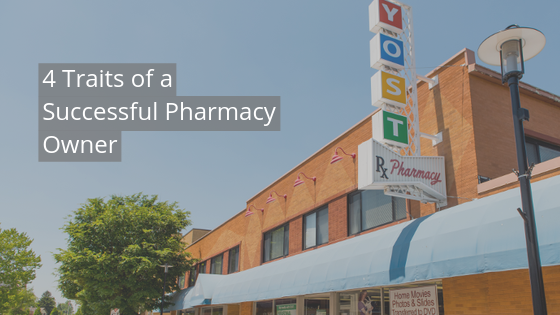 There is no sugar-coating it; even though 46% of all Americans are taking 1 or more medications daily, it's a tough time to be a pharmacy owner. Pharmacy owners are all fighting for the same customers, laws and regulations are constantly changing, new challenges (cough DIR fees cough) appear around every corner, and let's face it, operating a business is just a challenge. All is not horrible in the pharmacy world though, the almost 500 billion dollar market is expected to grow by 7% annually, which has led more large players, like Amazon, to attempt disruption of the pharmacy market.
According to the 2018 NCPA digest, after paying salaries and expenses, the average pharmacy still had a net income of $77,880 with an operating margin of 2.1%. Granted, not many business-minded individuals want to enter a market with an average margin of 2.1%, but certain pharmacy owners are finding a way to take this margin and succeed. In fact, the top 25% of pharmacy owners are actually doing quite well. The same NCPA report shows these top 25% each had a net income of $370,352 with a 6.7% operating margin, which isn't horrible
This made us wonder; what are the different traits which can help differentiate between an average pharmacy owner and a "successful" one? We decided to investigate, so we interviewed some successful pharmacy owners and compiled what we learned. Based on our research, each of the successful pharmacy owners we spoke with possesses these four traits.
1. Innovative
Innovation is a crucial trait for business leaders to have regardless of the industry they are in. In fact, innovation is such an important trait, according to Accenture, 93% of executives surveyed stated that innovation is critical to their company's long term success. However, the majority also stated they did not have the strategies necessary to implement innovation within their companies. As you are reading this, one of the most popular examples of demise due to lack of innovation; Blockbuster, likely comes to mind.
Our successful pharmacy owners aren't scared of new technology and innovation; instead they embrace the technology and utilize it to improve their practice. For example, take Micah Pratt, owner of Littlefield Prescription Shop in Littlefield, TX. Micah took over Littlefield Prescription Shop when his parents retired and immediately started to think of ways he could innovate and improve the business. When Micah learned of telepharmacy technology as a means to improve patient access to a pharmacist, he "didn't even bat an eye at it." Micah opened the first remote dispensing pharmacy in the state of Texas in Olton. He is now providing greater pharmacy access for Olton residents, and hasn't doubted his decision once. Micah said "I just always knew there was something that I needed to do to make things better for Olton and the surrounding area." Since then, Micah continues to innovate and plans to utilize technology to expand pharmacist access in other communities. Successful pharmacy owners embrace technology to make their business, and the lives of their patients better.
2. High Emotional Intelligence
Emotional intelligence (EQ) has become a hot topic among leadership summits, and it comes as no surprise that we noticed the successful pharmacy owners have a high EQ. "Better collaboration and communication among employees leads to not only a more pleasant work environment, but a healthy environment for our patients to come and get well," says Michael Muniz, owner of Muniz Rio Grande pharmacy. Psychologist Daniel Golman defines EQ as "a person's ability to recognize, understand and manage their feelings and emotions, as well as those of others," and breaks EQ down into 5 categories: Self-awareness, self-regulation, internal motivation, empathy, and people skills. It makes sense; if you listen to and understand your employees and customers as a business owner, you will be better suited to satisfy the needs of those employees and customers.
Daniel mentions that in his consulting work, he has seen companies fail because the owner "did not listen to (his staff) and couldn't compromise in the face of difference." Daniel Golman recommends the following actions to improve your EQ:
Pause before speaking, acting or responding
Listen to others
Attempt to control your thoughts
Praise others
Reflect on criticism and search for ways to grow from it
Pay attention to body language
Apologize
Try to see from another person's point of view
Communicate your feelings
While not all pharmacy owners we interviewed utilized every one of these, they all possessed high EQ traits overall.
3. Be Decisive
While interviewing Raj Chhadua, President of the Texas Pharmacy Association and Owner of Renue Apothecary, he was the first to admit he has made plenty of mistakes with his business along the way. Although he made mistakes, Raj contributes success to his ability to be decisive and learn from mistakes. In fact, most of the successful business owners we interviewed follow the concept of "fail-fast."
We previously discussed how the pharmacy world is changing fast, and therefore being decisive is a lot more important than being perfect. If you wait too long to perfect your pharmacy, the market will change and you will be behind the curve. Successful pharmacy owners make their pharmacy "safe and effective," but after that they make fast choices and improve as they go based on customer and employee feedback. According to Raj, "the knowledge learned along the way by making mistakes is invaluable." Yes, being decisive can be scary and your decision might not work out, but all of the successful pharmacy owners we interviewed made decisions quickly and moved forward. In my opinion, this concept was best summarized by the fictional character Bodhi from Point Break (yes, the original version), "Fear causes hesitation, and hesitation will cause your worst fears to come true".
4. Passionate
Finally, every successful pharmacy owner we interviewed was passionate. Business consulting firm Deloitte mentions passion as a critical trait, and even goes as far as to say passion is more important than engagement. All of the successful pharmacy owners we interviewed practice pharmacy not just to earn a buck, but because they are passionate about making a difference in their patients' lives. Even Richard Branson says, "Launching a business simply to make money is likely to result in failure." Each of the pharmacy owners' passion about pharmacy was contagious; once they started talking you could almost feel their energy and excitement. One great example of a passionate pharmacy owner is Greg Winn, owner of Pill Box pharmacy in Albion, Indiana. Just talking to Greg made me want to open my own pharmacy. Greg told us, "Prescription medication may be the product we supply, but the business we are in is making patients healthy. If we make our patients healthier, they will drive past five other pharmacies to come to us."
To quote Mark Twain, "Find a job you enjoy doing, and you will never have to work a day in your life."
…..
There is one other "trait" we noticed in each successful pharmacy owner that I wasn't able to add to this list, because let's face it, while interesting, it isn't really a trait. Every successful pharmacy owner knew their numbers. Marcus Lemonis, of CNBC's "The Profit", says all business owners should know at least 3 things, "your annual sales revenue, your gross profit margins, and your expenses as a percentage of your gross profit." Marcus goes on to say, "If you want to run a successful business, you have to know your revenue, gross profit and expenses inside out," and we see the same principle apply to pharmacy. Successful pharmacy owners know their numbers: where the profit is coming from, how much inventory they are carrying, and where they should be focused. Learn some financial accounting, analyze your financial reports often, set clear goals, and forecast the future. All our successful pharmacy owners pay attention to their pharmacy's changing financial trends and pivot when necessary.
Overall, possessing these four traits (or five depending on how you look at it) isn't a guarantee for success, but based on our conversations, possessing (and practicing) these traits will set you up for success.. The best news about each of these traits: they are all learnable. If you are a pharmacy owner looking to take the next step, we encourage you to adopt some of these traits, whether it's learning more about telepharmacy technology to capture more business, or enrolling in EQ trainings to develop yourself as a leader. Who knows, you might just create the next Amazon...
---
Interested in pursuing innovation in your pharmacy practice through telepharmacy? Click below to learn how telepharmacy works:
If you'd like to learn about how telepharmacy positively impacts your pharmacy's bottom line, click below to access our infographic on the business benefits of telepharmacy: