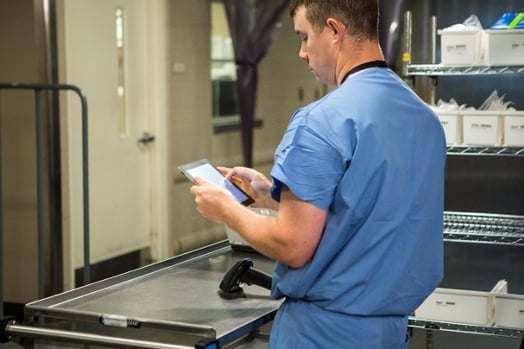 Unless you've been cryogenically frozen since 1994, you're aware that technology has crept its way into nearly every facet of life, both personal and professional. We wake up, check our smartphone, and stream online music in the car on the way to work where we rely heavily on computers to do the heavy lifting. You can even order pizza from an app to arrive hot and ready for when you get home.
If you're sitting there in your Nirvana t-shirt with a blank stare on your face after reading that paragraph, then I must warn you that the rest of this article is going to fly right over your head. We'll be discussing some technologies that are a little more complex than your 8-bit Tamagotchi that's probably due for a feeding.
The use of technology to improve efficiencies is something that has spread to virtually every industry, and it's not going away. That includes healthcare and, more specifically, pharmacy. Pharmacists everywhere are putting to use new technology to enhance patient therapies, run efficient tests, and ultimately provide better care to their patients.
Below is a list of the top 4 technology trends and the impact they have on the pharmacy industry:
1. Digiceutical Apps
Also known as "digital therapeutics," digiceutical apps are apps for your smartphone that serve as an alternative treatment (or sometimes a complementary treatment) for diseases, disorders, and addictions.
The idea of apps on your phone replacing or aiding in the treatment of ailments might seem like it's a far-off development, or perhaps it sounds like the premise of an episode of "The Twilight Zone," but this technology exists right now, and healthcare professionals are taking notice of the growing trend. In a recent survey by the American Society of Health-System Pharmacists, 48% of pharmacists said that they believe digiceutical apps will become accepted therapy in at least 50% of health systems.
But what is causing these pharmacists to believe this new treatment method will catch on so quickly? Well, it's simple really - just follow the money… and the federal government.
In 2018, there was a massive growth in investment in the field of digital therapeutics, and the Food and Drug Administration (FDA) has actually been on board with the trend for quite some time as well. In late 2017, they launched a digital health pilot program, which included 9 companies. Among the participants were the big guys like Apple, Samsung, and Johnson and Johnson, yet small-but-mighty startups were also included. One such startup is Pear Therapeutics, which has already received FDA approval for two of its app products; one for substance abuse, and the other specifically for opioid use. The goal of the program is to soften the regulatory requirements for digital health companies with proven records of developing and testing quality products.
The FDA's approval of these new technologies is not only exciting for the digiceuticals industry, but for healthcare tech as a whole. The FDA's willingness to adopt new ideas and innovations shows its commitment to enabling the best possible treatment of U.S. patients, regardless of how new and foreign the treatment methods might be.
2. Mail-Order Pharmacies
Mail-order pharmacies are internet-based pharmacies that ship prescriptions to customers in the mail. Online pharmacies have been around for a while, but a recent event has drawn attention to them and has sent shockwaves through the pharmacy world.
That event would be the nearly $1 billion acquisition of online pharmacy startup PillPack by Goliath - I mean, Amazon - in 2018. This certainly grabbed the attention of Amazon's newfound competitors, as the shares of large chain pharmacy players like Walgreens Boots Alliance, CVS Health, and Rite Aid all took a dive after news of the deal broke. The loss totaled $11 billion collectively in just one day.
While the big guys are obviously a little concerned with the entrance of Amazon to the marketplace, it begs the question: What impact is this going to have on retail pharmacy, namely independent community pharmacies?
While there are mixed reactions regarding what the impact might be, there is reason for small pharmacies to feel good about their chances at staying competitive.
On-demand service, personal care, and quick turnaround times on antibiotics are all examples of the value community pharmacies provide that the online pharmacies can't. The one major selling point that these online pharmacies stress is the convenience of having the meds shipped to your door. That's something that retail pharmacies have begun addressing as well, with the help of services like ScriptDrop and iOmni.
As long as pharmacies are willing to embrace technology, make changes, and work hard to stay competitive, they can continue to provide an incredible level of service and convenience that online pharmacies won't be able to match.
3. Artificial Intelligence
Artificial intelligence (AI) is an area of computer science that emphasizes the creation of intelligent machines that work and react like humans.
Artificial intelligence has long been a futuristic, and somewhat scary idea that has made great material for science fiction movies. Commonly, the plot consists of robots getting fed up with serving humans and then deciding to rebel and take over the world. So far, there have been no reported incidents of home products like Alexa or Siri getting violent (but perhaps they've been a little creepy).
Despite the warnings of Hollywood, AI continues to be developed, and has proven to be incredibly useful across many industries. In recent years, the pharmacy industry has been using AI for various stages of the pharmaceutical development process. Whether it be for research and development, clinical processes, 3D drug printing, mining and organizing complex and abstract data, the pharmaceutical industry is making use of AI to efficiently and accurately make decisions and streamline processes.
In fact, there has been an increase in the amount of AI companies dedicated to new drug discovery, as well as a massive spike in the amount of money invested in these companies over the last several years.
See? AI isn't so bad after all… at least not yet (insert evil robot laugh here).
4. Telepharmacy
As we've discussed before (see #5 in our article regarding misconceptions about telepharmacy), this isn't a new technology trend in pharmacy, per se. It has been around for quite some time, but has yet to catch on to the masses. With only 28 states permitting telepharmacy, it is very much still gaining popularity and trending among the pharmacy world.
Telepharmacy allows pharmacists to utilize HIPAA-compliant software to provide remote prescription verification and live-video counseling with patients, all while providing the same level of pharmacist involvement and interaction as seen in a traditional pharmacy.
There are various benefits to using telepharmacy, both for the pharmacy and the patients. Many of these benefits are well-documented in our various blogs and customer success stories, but the benefits consist of: creating more jobs, providing better/easier access to pharmacy care in underserved areas, allowing small community pharmacies to stay open, and increasing medication adherence to name a few.
At TelePharm, our mission is to improve patient access to a pharmacist across the country and provide the best telepharmacy solution that will enable pharmacists to serve more patients. If you'd like to learn more about using TelePharm for your pharmacy, or if you'd like to see if telepharmacy is available in your state, click below:
Technology is changing and improving our world at every turn. The pharmacy industry has and should continue to adopt these technologies to better serve and provide for their patients - after all, that is one of the tenets of the pharmacist's oath.