Efficiency can be the difference between a profitable or unprofitable pharmacy. It also impacts patient satisfaction and stress levels for all parties involved.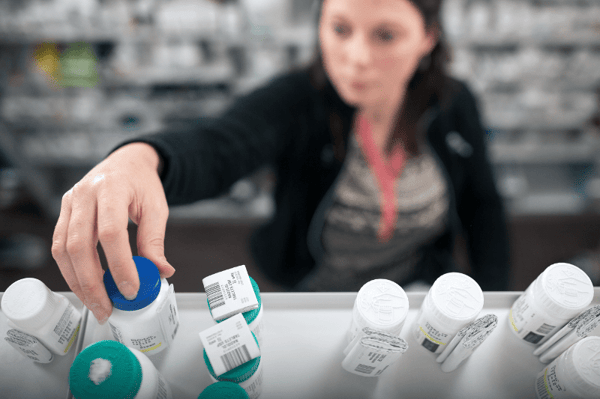 Where can you find opportunities to become more efficient in the pharmacy? Everywhere! Communication, physical pharmacy setup, inventory management and prescription processing all represent key opportunities for improved efficiency.
We sat down with our very own Nicole Bernabe — a finalist for 2016 PTCB Pharmacy Technician of the Year — to discuss pointers on what the modern pharmacy can do to become more efficient.
1. Optimize your physical workflow setup
Designing and executing an organized physical workflow will reduce redundancies, confusion and errors. Implementing systems like a directional assembly line (whether from left to right or vice versa) helps keep medication touch points clear in every step of the process. Color-coded baskets, a simple yet effective tool, also help reduce errors and enhance prioritization.
"Even simple changes like increasing the pharmacists' proximity to specific touch points can help increase efficiency in the pharmacy workflow."



- Nicole Bernabe, CPhT
2. Streamline movement in the pharmacy
How many steps do your technicians and pharmacists take to get their work done? No, seriously — how many? It may seem silly, but mapping the travel of pharmacy staff can help identify unnecessary steps. Does the pharmacist or technician have the tools needed to complete the task at hand? Is there any way to bring the work closer to the worker? Think small and see if you can uncover ways to save time by streamlining movement behind the counter.
"Observe your pharmacy on a typical day. Where are the bottlenecks happening? What can we move around to help staff members fill prescriptions?"

-

Nicole Bernabe, CPhT
Are you interested in
3. Convert your pharmacy to a telepharmacy
Telepharmacy software works to make pharmacies more efficient by optimizing the workflow. Here are some quick tips on how telepharmacy, or remote dispensing, can help improve your retail pharmacy workflow:
Remote dispensing reallocates the task of prescription processing to the technician so that the pharmacist is no longer a rate-limiting step in the workflow.
In a telepharmacy, prescriptions are filtered into

virtual "smart queues." Smart queues allow remote

pharmacists to easily navigate the workload after they are done counseling patients and providing clinical services.

The remote pharmacist can counsel patients via live-video call while standing at their workstation. Think back to streamlining movement in the pharmacy. The remote pharmacist can review telepharmacy prescriptions and counsel patients all without leaving their workstation.
Interested in more information about telepharmacy? Check out A Beginner's Guide to Remote Dispensing in Retail Pharmacy.
"Telepharmacy software helps optimize the workflow by advancing the role of the pharmacy technician. Telepharmacy also increases the time a pharmacist can spend with patients."



- Nicole Bernabe, CPhT
Through thoughtful planning, you can develop efficiencies in your pharmacy. Each of these tips can help improve pharmacy workflow and positively impact your bottom line.
"Always look to improve your pharmacy workflow, and using your staff is a great place to start. Ask pharmacy staff to take a step back and observe all your pharmacy's key processes. Do they see issues? Are there any delays? Have your team brainstorm ideas on how to become more efficient."



- Nicole Bernabe, CPhT
Thanks for reading. Do you have any retail pharmacy workflow tips that have helped you perform better? Please share them below in our comments section!